China to End One-Child Policy, Allowing Families Two Children
China to End One-Child Policy, Allowing Families Two Children
Imagen principal: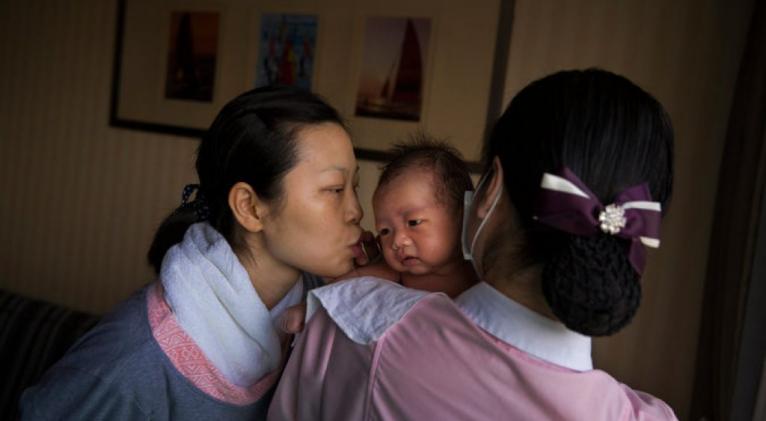 The announcement came after the party's Central Committee concluded a four-day meeting in a heavily guarded hotel in western Beijing where the committee approved proposals for China's next five-year development plan, which starts next year.
"Improve the demographic development strategy," said the official communiqué, or summary, of the meeting issued through the Xinhua news agency. "Comprehensively implement a policy that couples can have two children, actively taking steps to counter the aging of the population."
The government will focus on achieving cleaner and more equitable growth by spreading social security provisions to more people, strengthening environmental protection, eradicating poverty and improving access to education and other public services, said the communiqué.
"We must firmly establish and implement a concept of development that is innovative, coordinated, green, open and shared," said the communiqué. "This is a profound transformation that concerns the whole of our national development."
The Chinese government has already eased some restrictions in the one-child policy, and a party conference in 2013 approved allowing couples to have two children when one of the spouses was an only child. But many eligible couples failed to take up the chance to have a second child, citing the expense and pressures of raising children in a highly competitive society.
The party meeting offered President Xi Jinping a platform to reassert authority over the economic agenda after tepid indicators, deepening skepticism about official data and a tumultuous slide in the stock market all increased investor jitters over the summer.
The Chinese economy grew by 6.9 percent in the third quarter, relative to a year earlier, according to data released this month. But that figure, while robust compared with growth in advanced economies, was the slowest for China since the global financial crisis of 2009, and some economists say the economy is really much weaker.
The gloomy news has fueled doubts about the government's ability to transform the economy while maintaining enough growth to ward off major job losses and dangerous unrest or financial instability from failing investments and rising debts.
Mr. Xi and his prime minister, Li Keqiang, want to move China away from heavy industry and high investment toward a bigger service sector and more spending by consumers. But the recent economic data have fed doubts about whether they can smoothly manage that transition.
The implicit but clear response from the party leadership meeting was that those doubts are misplaced and that the leadership is willing to make bold changes, such as relaxing family planning rules, to shore up growth.
The initial public reaction to the party leaders' decision was restrained, and many citizens in Beijing who were asked whether they would grasp the chance to have two children expressed reluctance or outright indifference. Some, however, were pleased.
"Really, can you show me the news on your phone?" said Sun Bing, a 34-year old owner of a small technology store in Beijing who had his 2-year-old son by his side.
"This is a good thing, and I'm very supportive," he said. "I want to have a second kid in two years. But, of course, it's not cheap to raise children."
But most people interviewed voiced reluctance to take on a second child. The one-child policy has been a horrible social policy with many unintended negative consequences.But, it was the right economic policy even..."Before I had my first child, I was hoping for the relaxation of the one-child policy," said Chen Feng, a 36-year-old employee of a medical equipment company.
"I changed my mind after I gave birth to my daughter," she added. "It takes a lot of energy to take care of a child, and you want to make sure the child will have a good future. So my husband and I have decided not to have a second child."
Demographers and economists believe that the policy shift on population has come too late to help economic growth over the next decade. The cost and difficulty of child-rearing are likely to deter many eligible couples from having two children despite the relaxed rules, Mu Guangzong, a professor of demography at Peking University, said in a telephone interview.
"I don't think a lot of parents would act on it because the economic pressure of raising children is very high in China," he said. "The birthrate in China is low and its population is aging quickly, so from the policy point of view, it's a good thing as it will help combat a shortage of labor force in the future. But many parents simply don't have the economic conditions to raise more children."
By May, about 1.45 million couples had applied to have a second child under the relaxed rules announced in late 2013, but that was only about 12 percent of the number eligible, disappointing demographers and policy makers who had hoped that the policy shift would do more to counteract the rapid aging of China's population. Now the party leadership has acted more forcefully, apparently in the hope that a burst of children will replenish the nation's work force and encourage more consumer spending.
China's population reached 1.37 billion by the end of last year, and one-tenth were aged 65 or older, a proportion that will rise quickly in coming decades if population growth tails off.
The one-child policy took shape in the late 1970s, when Deng Xiaoping and other leaders concluded that China's growing population threatened to stifle economic growth. The restrictions went into effect in cities, but in the countryside, many families continued having two or more children. The government has also excused ethnic minorities from complying.
As the years went on, harsh official campaigns to fine and punish couples who violated the rules, and sometimes to force women to have abortions, became a source of public discontent.