Oscar Lopez Gets Hero's Welcome at New York Puerto Rican Parade
Oscar Lopez Gets Hero's Welcome at New York Puerto Rican Parade
Imagen principal: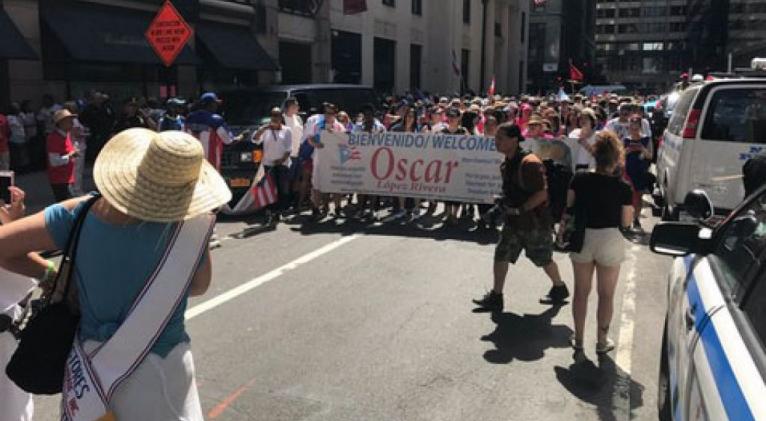 Tens of thousands of people attended New York City's 60th National Puerto Rican Day Parade Sunday, where freed Puerto Rican revolutionary Oscar Lopez Rivera appeared to loud cheers as he shouted, "Que Viva Puerto Rico!" on the first float leading the parade down Fifth Avenue in New York City.
"I feel good about being here," Lopez Rivera said, "This parade is for the Puerto Rican public," according to the New York Post.
Police, multinational corporations, and the Yankees baseball team pulled out of the parade last month when news broke that Lopez Rivera would be honored as a "National Freedom Hero," in an effort to pressure the organizers to rescind the distinction.
The boycott campaign was organized by a conservative group funded by donors that are close to both U.S. President Donald Trump and right-wing media outlet Breitbart News.
But for Lopez Rivera's supporters who followed his float, "Oscar Lopez Rivera is our Mandela," read signs they were carrying.
New York City Council Speaker Melissa Mark-Viverito, who strongly supported the honor, said, "This is a day of unity and celebration and anyone that tries to take that away from me as a Puerto Rican, or from us as a Puerto Rican community, they should be ashamed."
For those who stayed away because of Lopez Rivera, she said, "that's their decision," joining his float halfway through the parade route.
Lopez Rivera declined the honor by the organizers Thursday, opting to march instead "as a humble Puerto Rican."
Not only has Lopez Rivera's release led to an upsurge in interest in the Puerto Rican independence movement, but the attempts by the police, baseball team and multinational corporations to silence him has led to more people wanting to hear what the iconic leader has to say. Interest in the parade — which already draws approximately 2 million participants and spectators every year — has also shot up.
Lopez Rivera was arrested in 1981 by the FBI and charged with "seditious conspiracy" for being a militant, anti-colonial fighter as a part of the Armed Forces of National Liberation.
During his trial, he told the court he and his group's actions were part of an anti-colonial war against the U.S., declaring themselves prisoners of war and requesting that their cases be handed over to an international court.
The U.S. did not recognize Lopez Rivera's demand and sentenced him to 55 years in prison. After an alleged attempt to escape, the sentence was increased to 70 years in prison, 12 of which he spent in solitary confinement.
Lopez Rivera was freed last month after serving 36 years in jail after former President Barack Obama commuted his sentence earlier this year.
Thousands of his supporters are expected to attend the parade.
The first Puerto Rican Day Parade took place in 1958, just a year after it became legal to display the flag or other nationalist symbolism in Puerto Rico, a U.S. colony. A nearly decade-long gag rule beginning in the late 1940s aimed to suppress the independence movement.
The parade has honored Puerto Rican nationalists in the past, with 2000's parade dedicated to Pedro Albizu Campos, leader of the Puerto Rican Nationalist Party, who urged his compatriots to start an armed struggle for independence.
The parade coincides with Puerto Rico's plebiscite to decide its political future amid a debt crisis and bankruptcy process.