Tropical Depression 9 forms in Caribbean Sea, Florida in forecast cone
Tropical Depression 9 forms in Caribbean Sea, Florida in forecast cone
Imagen principal:
Tropical Depression Nine formed in the Caribbean Sea early Friday and is expected to strengthen into a hurricane as it heads toward the Gulf of Mexico and the state of Florida, forecasters said.
A Friday morning update from the National Hurricane Center showed most of the Florida peninsula was in the depression's forecast cone, though the advisory noted that the uncertainty in the forecast still remained "fairly high" and the track could change significantly.
The depression was about 615 miles east of Jamaica and moving west-northwest at about 13 mph and had maximum sustained winds of 35 mph with higher gusts. The system was expected to turn more to the northwest by this weekend, strengthening slowly at first and intensifying into a hurricane by Monday, according to the hurricane center.
The forecast cone showed the storm approaching South Florida by Tuesday. Tropical storm force winds could reach South Florida by then, according to Spectrum Bay News 9.
Heavy rain is expected in Jamaica and Cayman Islands in the coming days.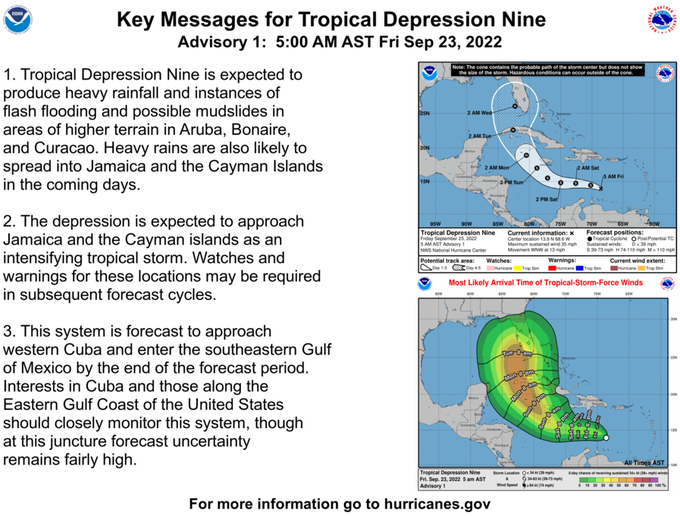 Forecasters expect Tropical Depression #9 to become Tropical Storm Hermine later tonight, according to Spectrum Bay News 9. The news station said forecasters expect the depression to move west and then turn north. However, it's too early to know when or where.
Elsewhere in the tropics, a low pressure area, between the Cabo Verde Islands and the west coast of Africa, is becoming better organized. Forecasters expect conditions to be favorable for more development, and a tropical depression is likely to form this weekend.
The system has an 80% chance of formation in two days and in five days.
Another area of low pressure several hundred miles west-southwest of the Cabo Verdes Islands is could develop slowly over the next several days, forecasters said. However, the system has only a 20% chance forming in the next two days and a 30% chance in the next five days.
Two other named storms are still going holding out in the Atlantic.
Fiona hit Bermuda as a Category 4 hurricane and is now approaching northeastern Canada.
The Canadian Hurricane Centre issued a hurricane watch over extensive coastal expanses of Nova Scotia, Prince Edward Island and Newfoundland. The U.S. National Hurricane Center said Fiona should reach the area as a "large and powerful post-tropical cyclone with hurricane-force winds."
The U.S. center said Fiona had maximum sustained winds of 130 mph late Thursday. It was centered about 195 miles west of Bermuda, heading north-northeast at 21 mph.
Fiona so far has been blamed for at least five deaths — two in Puerto Rico, two in the Dominican Republic and one in the French island of Guadeloupe.
Tropical Storm Gaston is expected to move near or over portions of the Azores today or early Saturday. The storm's maximum sustained winds are near 60 mph with higher gusts. Forecasters expect the storm to weaken over the next few days.