"Un Time" live to watch Harold Merino Bonet's music
"Un Time" live to watch Harold Merino Bonet's music
Imagen principal: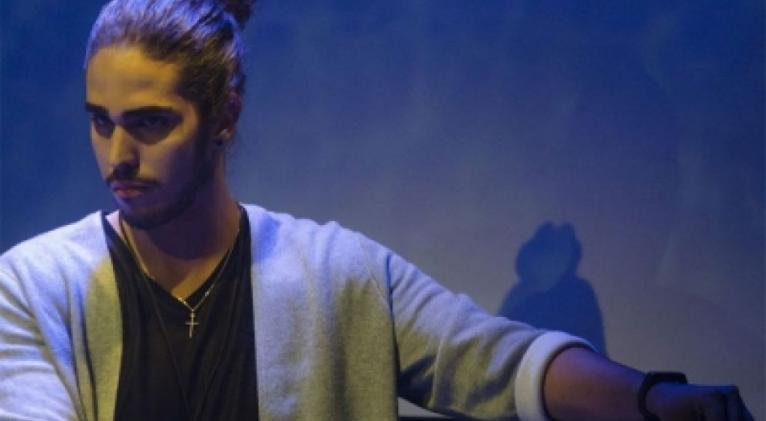 Those who lived the concert say that it was a unique experience of emotions and reflection provoked from music. Now, we can enjoy it via "Un Time" DVD live.
In his notes to the DVD, Guille Vilar wrote: "Those of us who had the joy of being present at the concert never figured out that such short period of time was enough to discover one of the legacies of journalist and writer Enrique José Varona when he affirmed that in our souls we all have a spring from which crystal water flows when we come into contact with authentic artistic experiences."
The audiovisual, which comes out under Egrem label, includes the presentation at the National Museum of Fine Arts of "Un Time", phonogram that earned Harold the Cubadisco Award for First Work in 2018. Its producer, Mildrey Ruiz, commented:
"Actually, I listened to "Un Time" album and it seemed to me like a great play, which could be performed on stage, in a theater with a single performer and many instruments, with scant use of light effects, so the audience would mainly focus on the music…. In the end, we used all resources: rings, tattoos, bulbs that are lit in every keyboard as part of the show, because everything that happens on stage has its own relevance. It's a little bit like playing with backlights, with Harold's emotion when performing the themes and thus to follow the story."
Harold starts by thanking the possibility to fulfill a dream that began with the album, a product from the same record company that has already given him many surprises. However, he did not bet on a copy in another format, but in the likeness of the phonogram:
"Although the album is more about dreams, I wanted to approach this DVD as a tribute to the piano, to all the study years that took place in my life, to all my teachers; then I start with the piano and go through the different learning stages in art schools. I wanted the audience to get more involved in this journey that I made throughout all these years, with my world, with the music that I like, with the music that I make."
"In the end, I always sit down at the piano thinking to make something that I like; the composer always seeks to make something that delights him/her, and the fact that other people feel identified with this type of music is a great satisfaction for me," Harold affirmed.
Young and talented, of course Harold Merino Bonet is already involved in a new project: "I'm working on my next record production, which is called "Trilogia" (Trilogy). They're three trilogies, each of them composed of three themes; that is to say, it's a three-theme story and it also includes the tribute that I made to Juan Blanco."
Translated by Jorge Mesa Benjamín / CubaSi Translation Staff