Peter and The Wolf in a feminist tone
Peter and The Wolf in a feminist tone
Imagen principal:
The symphonic fairy tale for children op.67, by Russian composer Serguei Prokofiev, is written in treble clef, but the act number 105 in the version for actors and flat puppets, by Cuban theater genius Ruben Darío Salazar, was staged in the key of women.
Three very talented actresses did their best on stage and, for the first time, in premiere, one of them, Maria Laura Germán, played the narrator of the story, whose goal is to present children the instruments that make up the orchestra.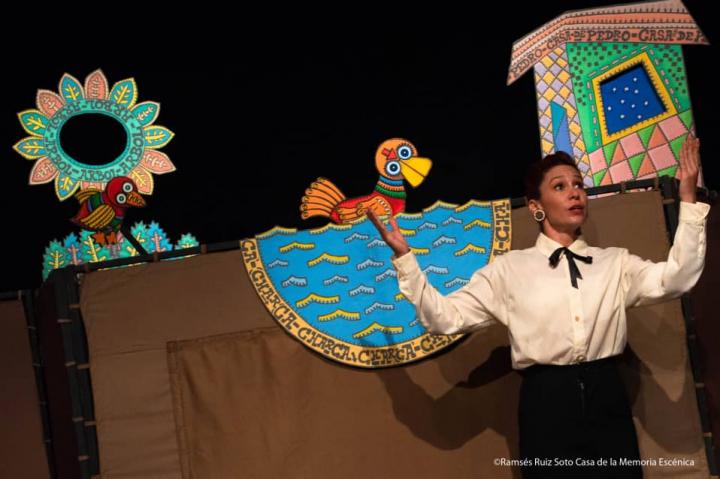 20 years ago, Fredy Maragoto led me down an invisible thread where people and animals communicate through the sound of different musical instruments: the flute, a singing bird; the trombones, the dangerous wolf; and the violins, violas, and cellos for little and brave Peter, for instance. I enjoyed it a lot.
Then I was told about a brilliant performance by Iván García in the same character. But today, we did not only witness another outstanding performance by María Laura, but the confirmation that Teatro de las Estaciones, for our own good, will never cease to marvel us. 
Who said that puppet theater only works for children? Who stated that the same play cannot be staged differently? Who doubts that characters can mutate or transform themselves without losing their essences as long as their creators dream?
Peter and The Wolf is a classic that we can find in the repertoire of many companies around the world, explains Rubén at the beginning of the performance. In the end, with eyes full of the colors that Alfredo Sosabravo gave to Zenén Calero to dress the play, we have the absolute certainty that we attended a unique performance, absolutely universal, but really Cuban.
Translated by Sergio A. Paneque Díaz / CubaSí Translation Staff