Cuba continues strengthening natural medicine program
Cuba continues strengthening natural medicine program
Imagen principal: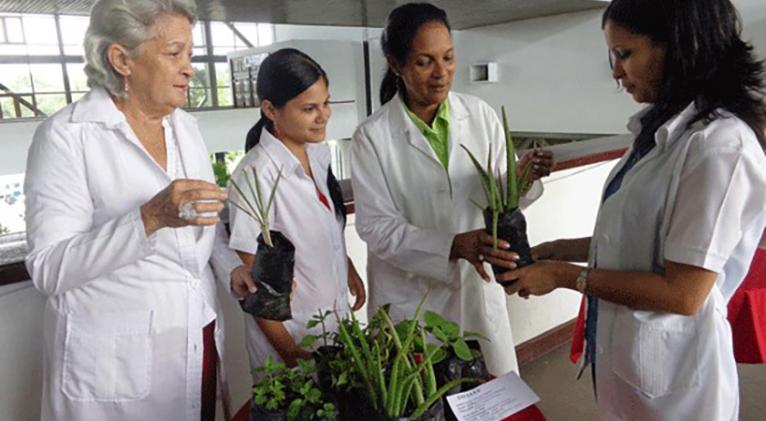 CIEGO DE AVILA, Cuba, March 6 (ACN) The Agriculture sector in Cuba intends to surpass this year the production record of plant mass delivered in 2022 to the three fundamental destinations of the Health system in the country, said Lisbet Avello Romero, head of the National Program of Medicinal Plants, in this central city.
Avello Romero and Mailin Beltran Delgado, in charge of the Pharmaceutical Services of the Ministry of Public Health, recently visited several medicinal plant farms in Ciego de Avila, a province that stands out in this task.
The head of the National Medicinal Plants Program exclusively told the Cuban News Agency that since last January they have been implementing strategies to guarantee more than 1,500 tons of plant mass (record in 2022), in more than 48 species, to the Local Medicines Production Centers (CPLM by its Spanish acronym) that exist in the country; Biocubafarma and Labiofam.
Beltran Delgado pointed out that, to incorporate a plant for curative purposes, studies are carried out first, including toxicity, in order to validate if it really responds to the uses attributed to it by popular tradition, and then the pharmaceutical formulations are also investigated.
She added that with the more than 1,500 tons of plant mass received in 2022, they produced more than 100 million units of natural products (syrups, creams and tincture), of which 93 were elaborated in the CPLMs, which favored a faster distribution.
The National Program of Natural and Traditional Medicine is included in Guideline 98 of the Economic and Social Policy of the Party and the Revolution for 2021-2026.
Green medicine is part of and is seen as one more tool that covers both primary care and hospitals and its use is gaining more followers every day and already includes means of high technological level, with well-proven results in current medical sciences as they are more economical and do not have so many contraindications.
The World Health Organization estimates that healing herbs are the main medicine for two thirds of the world's population, which amounts to 7,888 million people, according to a United Nations demographic report in 2021.