Demonstrators demand in Miami End of U.S. blockade against Cuba
Demonstrators demand in Miami End of U.S. blockade against Cuba
Imagen principal: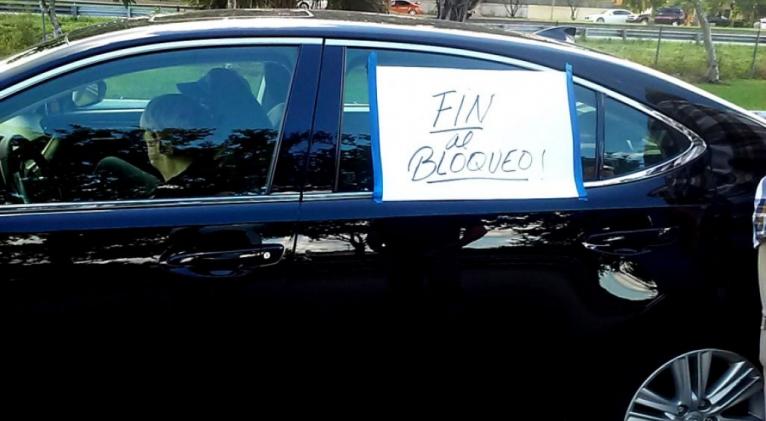 A caravan of cars, with flags and banners demanding the end of the 50+ years-old U.S. commercial, economic, and financial blockade against Cuba, toured the streets of Miami, according to local media.
Around fifty cars traveled more than 20 miles throughout the most important avenues in Florida, where most of Cuban-rooted emigrants live.
The coalition Alianza Martiana —comprised of several organizations with most of Cuban emigrants in their ranks—was responsible for the organization of the demonstration.
In the words of organizers, the cars traveled with their lights on, honking the horns, carrying Cuba and US´s flags, as well as showing banners demanding the end of the blockade.
Many people supported the demonstrators all the way. Not to mention other cars joined the caravan as well.
Executives from Alianza Martiana confirmed to local media that other demonstrations are to be carried out in South Florida "until the criminal U.S. blockade against the Cuban people can be removed".
A year ago, on July 31st 2015, Democrat presidential candidate Hillary Clinton urged in Miami the end of the U.S. blockade to the economy and society in Cuba.
Miami, one of the cities with largest presence of Cuban emigration, was —for a long period of time— headquarters of most aggressive operations against Cuba carried out by mercenary groups.
Recent polls revealed that 52% of Cuban people living in the U.S. disagree with the blockade policy.
Translated by Sergio A. Paneque Diaz//Cubasi Translation Staff