Cuban President meets with St. Petersburg authorities
Cuban President meets with St. Petersburg authorities
Imagen principal: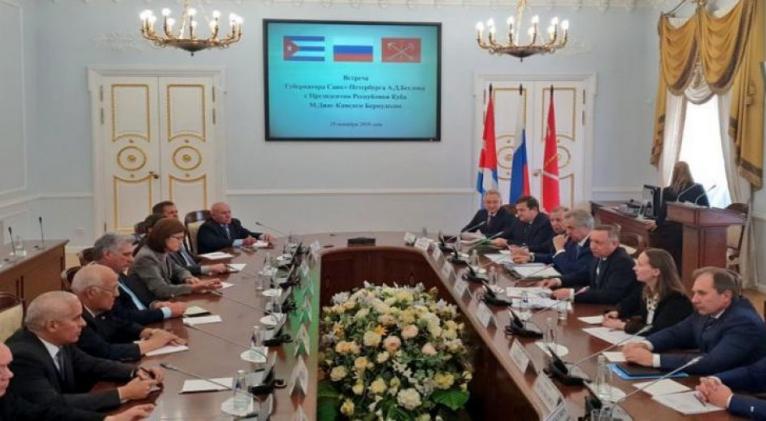 St. Petersburg, Oct 28 (RHC) Cuban President Miguel Diaz-Canel Bermudez met Monday with the governor of St. Petersburg, Alexander Beglov, and the leader of the Legislative Assembly of that Russian region, Viacheslav Makarov.
During the encounter, the parties ratified their willingness to reinforce the relations between Cuba and Russia.
The President will visit the Fabergé Museum which exhibits the world's most extensive collection of works by Carl Fabergé, including nine of the famous Imperial Easter Eggs, regarded not only as the most beautiful jeweled works of art but also as unique historical artifacts.
The day before, Díaz-Canel visited Piskarevskoe Memorial Cemetery, where the remains of Leningrad's defenders rest, and in the visitor's book he highlighted the people's spirit of resistance and the participation in the Great Patriotic War.
Likewise, the Cuban President visited the Aurora battleship and expressed that it was an extraordinary opportunity to appreciate its legendary history linked to transcendental events in Russia.
The day also included a tour of the Hermitage museum, where the head of state recalled that it was his second visit to a museum with so much heritage in the world, although time is not enough to appreciate all the art treasured in it.
The Cuban President began a working visit to the Eurasian nation on Sunday after making official visits to Ireland and Belarus, as well as participating in the 18th Summit of the Non-Aligned Movement, held in Baku, Azerbaijan.
Edited by Jorge Ruiz Miyares