Another Day, Another Police Shooting of a Black Man in the US
Another Day, Another Police Shooting of a Black Man in the US
Imagen principal: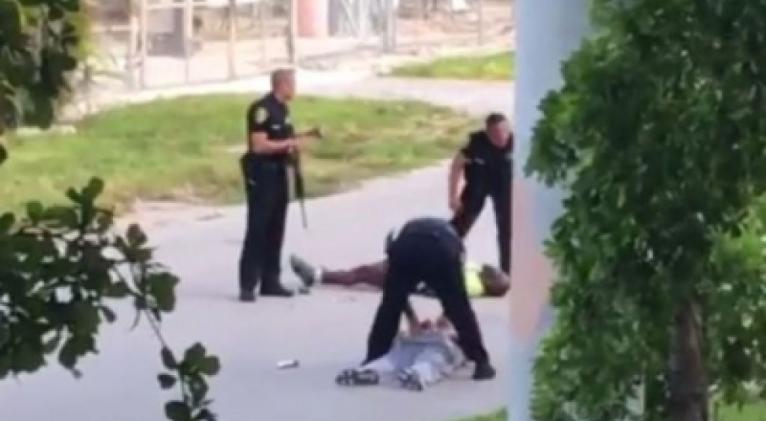 When the injured man asked the officer why he shot him, his response was "I don't know."
It is perhaps emblematic of the times that the video footage released Wednesday is at once jarring and banal: an unarmed Black man lies on his back in the middle of a Miami street, his hands raised awkwardly to the sky as he pleads with police officers not to shoot him.
And then, the police officer shoots him.
RELATED: Unarmed Black Men Seen as 'Greater Threat' by US Police: Study
The man, Charles Kinsey, is a therapist at a Miami mental health center, and was attending to a 23-year-old autistic man who had wandered into the street, when police arrived on the scene. The police said they they had received an emergency call reporting a man with a gun threatening suicide, apparently referring to Kinsey's autistic patient who was holding nothing more than a toy truck, Kinsey told local reporters.
When police showed up and pulled out their weapons, Kinsey immediately went to the ground. A cellphone video clearly shows Kinsey in a supine position, as he tries to reassure the cops that he is unarmed and his patient is holding a toy.
#CharlesKinsey with his hands up explaining he's the autistic man's caretaker. He was shot by police moments later. pic.twitter.com/XkSQdA4RTi — Richard (@Stochu) July 21, 2016
"I'm like this right here, and when he shot me, it was so surprising," Kinsey told South Florida television station WSVN after the incident. "I thought it was a mosquito bite, and when it hit me I had my hands in the air, and I'm thinking I just got shot! And I'm saying, 'Sir, why did you shoot me?' and his words to me were, 'I don't know.'"
After Kinsey was shot, he was handcuffed and taken to a nearby hospital for medical treatment. He is in stable condition.
According to another Florida television station, WPLG, the officer who shot Kinsey has been placed on administrative leave while the Miami-Dade state attorney's office investigates.