'US not engaged in major war': Obama Memorial Day remark slammed
'US not engaged in major war': Obama Memorial Day remark slammed
Imagen principal: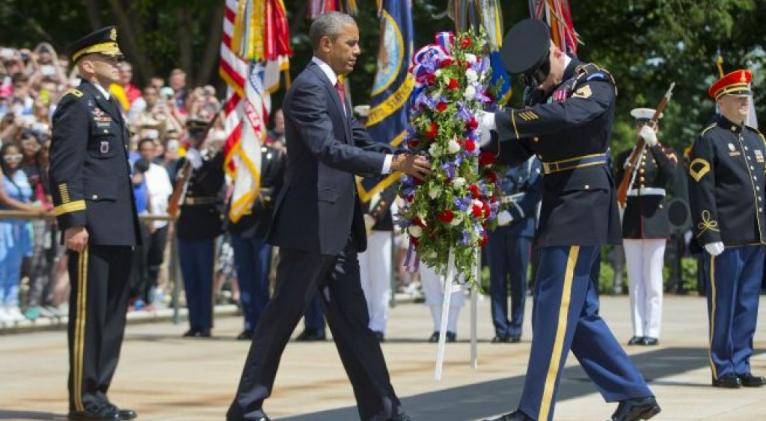 "Today is the first Memorial Day in 14 years that the United States is not engaged in a major ground war," Obama said on Memorial Day, a US holiday for remembering those who died while serving in the country's armed forces.
He added that this Memorial Day is the first "since our war in Afghanistan came to an end," but admitted that about 10,000 US troops remain on a mission to train and assist Afghan forces, even though "Afghanistan remains a very dangerous place."
"And as so many families know, our troops continue to risk their lives for us," Obama said.
Obama also said that the wars which America waged were "for democracy, the peace we've laid to preserve it."
The statement by US president was met with strong criticism both from experts and social media users.
"What a joke. Of course the US is still at war,"wrote Brian Fernandes, a user on Facebook.
"The US still has troops in Afghanistan and plans to keep them there for years. And they have fomented wars in Ukraine, Africa, Syria, and now Yemen. The US is the most barbaric war-mongering nation on Earth," added another, Richard Tina.
The 13-year war US war in Afghanistan ended in December 2014, concluding in a cost of nearly $1 trillion and the lives of over 2,200 Americans, according to the New York Times. Despite America's combat operations being rolled back, troops remained as part of an agreement reached between Washington and Kabul.
Afghanistan still sees explosions and shootings. In January three US military contractors were killed in Afghanistan, after gunfire erupted at Kabul International Airport's military facility.
The Taliban's leadership declared that the Obama administration's decision to slow US troop withdrawal from Afghanistan would hamper peace efforts in the country.
Washington is "participating pretty directly in an ongoing conflict in Iraq" in addition to a number of proxy wars that they are supporting," former US marine Ross Caputi told RT.
The war in Afghanistan "is certainly not over, and it won't be over for many years - arguably even after the US troops leave. Wars always leave a destructive wake of violence after them, and there is sort of lag to the violence also."
READ MORE: Washington started all modern military conflicts - Russia's General Staff
Caputi believes that the US government is attempting to present a certain picture of US foreign policy and US military engagements around the world.
"Most of the time the picture they are trying to present is very different from what is actually going on the ground. This is part of something that they call information operations, and they use a number of tactics in these information operations."
Washington uses "misinformation" which is a part of "perception management," he says.
"So that is what they are doing, they are trying to manage way that the public perceives US foreign policy, even if that means deceiving them."
Countries once invaded or interfered with by the US and its allies - Afghanistan, Iraq, Libya, Yemen, Pakistan, Somalia or Syria - have become hotbeds for militants from Al-Qaeda, the Islamic State (IS, formerly ISIS/ISIL) and similar terrorist groups.
Though Washington has not officially declared war since 1941 (in WWII), Syria became the seventh country that Barack Obama - recipient of the Nobel Peace Prize - has bombed in his presidency.
Washington is also involved in on-ground training of the military in the countries, engaged in internal wars, including the one in Ukraine. In April, paratroopers of the US 173rd Airborne Brigade arrived in western Ukraine to provide training for Ukrainian government troops who fight against rebels in eastern Ukraine.