Peña Nieto Admits Mexico's Security "Challenge," Obama Offers Help
Peña Nieto Admits Mexico's Security "Challenge," Obama Offers Help
Imagen principal: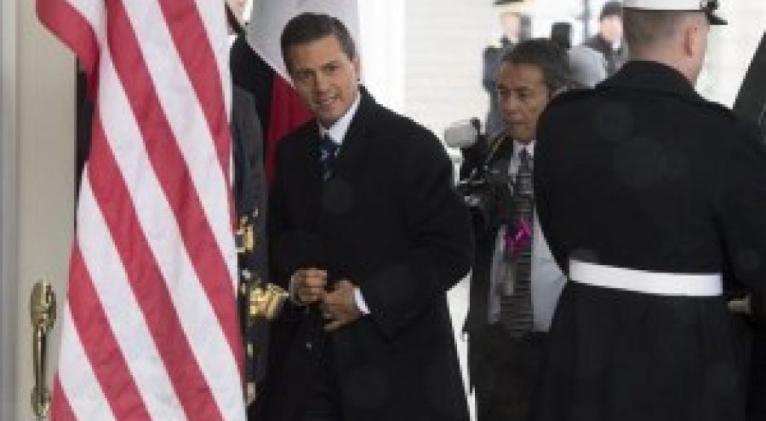 Obama welcomed the Mexican leader to the White House for the first meeting of the pair since the disappearance in late September of 43 teaching students in the Mexican town of Iguala, presumably at the hands of local police and a drug gang.
That case has sparked a wave of protests in Mexico and a serious credibility crisis for the government of Peña Nieto, who did not specifically mention the incident but acknowledged, from the Oval Office, that his country needs to fight organized crime more efficiently.
Obama said that the disappearance of the students was tragic and reiterated Washington's commitment to help Mexico fight against the "scourge" of violence perpetrated by organized crime and drug cartels, although he said that Mexican authorities are responsible for enforcing the law in that country.
While Obama and Peña Nieto were meeting in the Oval Office, about 100 demonstrators gathered in front of the White House to protest against the Mexican leader and demand answers in the disappearance of the students.
One day before the meeting, Human Rights Watch urged Obama to demand "more seriousness" from Peña Nieto in dealing with abuses committed by security forces in Mexico, as well as making the delivery of some of the funds for the Merida Initiative dependant on progress in criminal trials.
The two leaders also spoke about Cuba, regarding the announcement by Obama and Cuban President Raul Castro to begin a process of normalizing diplomatic relations between the two nations, ties that have been broken for more than 50 years.
Obama once again defended his decision to launch a "more constructive" policy toward Cuba that, nevertheless, will continue to emphasize respect for human rights, democracy and political freedom on the communist-ruled island.
The U.S. president said that his objective is to "insist" on that when he attends the Summit of the Americas in Panama in April, to which Cuba has been invited.
Meanwhile, Peña Nieto congratulated Obama on that decision to normalize bilateral relations with Havana and said that Mexico "will be a tireless promoter of good neighborliness" between the United States and Cuba.
Peña Nieto also highly praised Obama's announcement in November to temporarily regularize the status of some five million of the 11 million undocumented immigrants living in the United States, many of whom are Mexicans.