Moon-Trump: Mistrust
Moon-Trump: Mistrust
Imagen principal: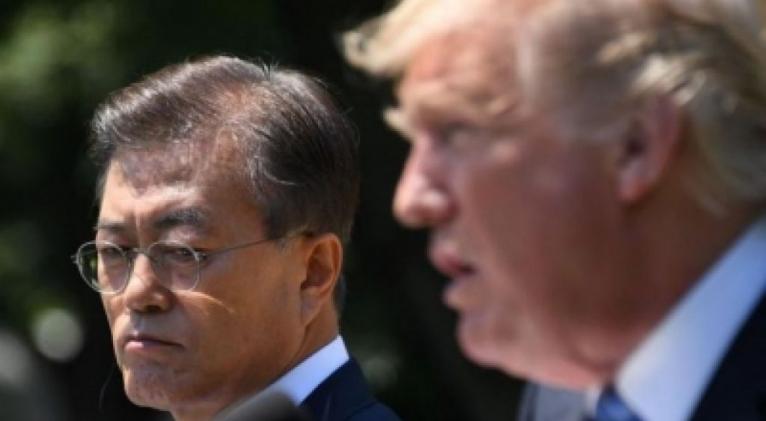 It's possible that when these lines come out, US President Donald Trump has already arrived in South Korea, as part of his Asian tour, which started in Japan and should end in China.
Perhaps one could figure out South Korea is on the paper the least disturbing country for the US head of state, but I do not think so, because President Moon Jae-in has been rebellious before his American counterpart, who has had to resort to his own military pressures and Seoul's Main Staff to prevent the South Korean leader from carrying out his long-standing desire of talks with the authorities of the Democratic People's Republic of Korea (Spanish acronym RPDC), confident, as he has said, it is the only way the peninsula is not destroyed by a nuclear annihilation.
Moon has been clear and sincere with Trump, but the latter downplays the consequent reasons of a head of state who was actually elected by a vast popular majority in the early elections summoned after the removal of the previous president, because of proven corruption cases and abuse of power.
Trump not only almost ignored Moon, when he visited Washington and said he was in favor of a dialogue with Pyongyang, but also made derogatory comments about his South Korean counterpart on a phone conversation with Japanese PM Shinzo Abe, for his stance before the DPRK.
"Trump underestimated the President of South Korea, Moon Jae-in, calling him "beggar", for insisting in his calls for dialogue with North Korea", revealed Hankyoreh newspaper, which is edited in Tokyo.
Quoting Japanese television network Fuji TV, the newspaper explained the US president called his South Korean counterpart like that during a phone call with Japan's PM Shinzo Abe, hours later that North Korea launched a missile that passed through Japanese airspace.
Moon "is acting like a beggar", said Trump to Abe to state his dissatisfaction with Seoul, for its position before the nuclear weapons tests of Pyongyang, said the Japanese daily, besides highlighting that the US head of state asked his partner "not to tell anyone about the need for military pressure on North Korea."
But such pressure, as one can assume when it is about Democratic Korea, made that country remark it would defend its nuclear development "in the face of the hostilities of U.S. and its puppets."
Trump has said he's "100% with Shinzo", and highlighted that Tokyo should help Washington in case "it is attacked by Pyongyang", and indirectly confirmed that Washington is pressing Seoul, geared at taking war actions against its northern neighbor; as many countries believe that keeping the pressures against North Korea would lead to a military catastrophe.
Shortly before the American head of state started his Asian tour, Moon has asserted that a war in the Korean Peninsula is something that will never happen again, and claimed that United States would not undertake any military action against the North without the consent of the South. In addition, he thinks that Trump's statements sought to increase pressure on Pyongyang and did not indicate an imminent attack.
Of course, the South Korean authorities do not trust these statements, because of the controversial personality of Trump, and reiterated that their tests are based on their right for self-defense before the frequent joint military exercises of Washington and Seoul in the peninsula.
NOT ONLY WAR PRESSURE, BUT COMMERCIAL AS WELL
Tensions with Pyongyang promise to lead the first meeting between Trump and Moon in Seoul, where thousands of people rallied against the presence of the US magnate and demanded a peace policy toward the North. The protesters also rejected the insistence of the US president to renegotiate the trade deal with South Korea, partly due to his concerns about alleged imbalances in the steel and car exchange.
"We're renegotiating a trade deal with South Korea right now, and hope it would be equitable. It will be a fair deal for both parties. It has been a tough deal for the United States", Trump said.
The US president, who slammed during his electoral campaign the trade deal inked by his predecessor Barack Obama, first referred to its renegotiation and claimed he would seek a "new deal".
Trump's statement surprised members of the South Korean government and business leaders in Seoul, who did not expect the possibility of renegotiation to be on the table in the meeting, the Wall Street Journal said today.
Months earlier, in Washington, Moon had only talked about bilateral ties: "We will promote economic growth and job creation to ensure our peoples enjoy greater mutual benefits through the collective efforts we have committed to make."
Standing by his side, Trump had just slammed the trade deal, popularly known as Korus FTA, by denouncing that since its entry into effect to 2016, the US trade deficit with South Korea had increased by over $11 billion", nearing $28 billion.
US Secretary of Commerce Wilbur Ross had previously stated that the main cause of the trade imbalance is "the car trade", that is mainly carried out "based on South Korean standards", and added there is another problem with the trade of "steel" products" from South Korea to the United States, because part of them come from China and are sold below their market price".
Translated by Jorge Mesa Benjamin / Cubasi Translation Staff