Harold López: "My characters are sitting on a dormant volcano"
Harold López: "My characters are sitting on a dormant volcano"
Imagen principal: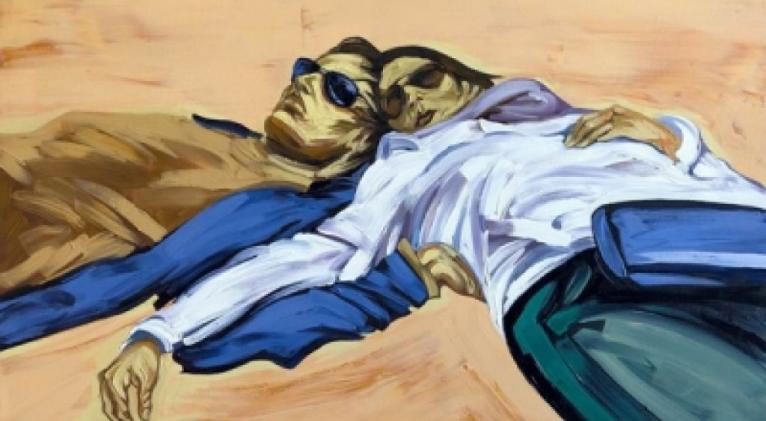 Next Thursday, the Cuban painter will inaugurate an exhibition at Villa Manuela Gallery, in which he reflects on insularity. I interviewed him.
A long time ago, Harold López stopped to be a "young artist", a "promise", terms many times used, with the best intentions, to boost the career of those who begin in the world of arts.
His work convinced both specialists and laypeople by the uniqueness of his style, which was reflected on a figuration of strong emphasis on color, and by the social interest of the subject. His pieces seem fragments of the great chronicle of our daily life.
Next Thursday, at 6:00 pm, the painter will inaugurate an exhibition at Villa Manuela Gallery, national headquarters of the UNEAC (Union of Cuban Writers and Artists), located on H Street between 17th and 19th Streets. "Stand By" speaks about waiting, the circumstances of an island… from the commitment of an author, who is not a simple spectator of the panorama he recreates.
Enduring. Mixed technics on canvas 150x200 cm.
—There are sitting characters, waiting characters, characters in starting position, resting characters, characters looking at the horizon in these works… To what extent could this exhibit be an essay of inactivity or expectation?
—In every sense. This exhibition is an essay of the inactivity, the wait, the frustration and the risk this attitude among youngsters entails. It's a kind of warning. A huge danger lies beneath the seeming tranquility in which the characters of these paintings live; they are all sitting on a kind of dormant volcano.
—In fact, that figuration builds bridges to a perfectly recognizable context. How far does the documentary vocation of the series go? Where does pure fabulation begin?
—I am an artist who fabulates little. I cannot paint something I haven't seen before. In this point, I can tell you that the whole series has a documentary vocation, except that a painting is a kind of snapshot where the painter must synthesize a certain scene with the greatest possible efficiency; so I figure out that fabulation begins when I make the composition of these scenes, where each element must be very justified, I mean: objects, colors, textures, characters, attitudes....
Trying to take off. Oil on canvas 200x200 cm.
—At least thematically, the exhibit seems to mean a new period in your career. How do you dialogue with the rest of the work? What would be the newest thing (stylistic and conceptually) in this new approach?
—My previous series was entitled "Fragmented Discourse". They were very urban scenes captured from Havana's streets, where passengers-by (solitary or in groups) walked ahead fragments from those murals of patriotic reaffirmation that are pretty common in all cities of our country.
"It was a series full of motion that I exhibited in two parts because of its extension; the first during the 12th Biennale of Havana (2015), and the second, last year at Artis 718 Gallery. This new series joins "Fragmented Discourse" conceptually, because it basically refers to a conflict between our youths and their attitude towards the historical moment they have gone through".
"Stand By is a series full of passiveness. This time visuality is fully different from all my previous work. The scenes are brighter, flooded with a beach light. For the first time, I distance from my interiors and streets and move my characters up to the limit that our shores mark".
"But conceptually, it does not mean a break with my previous work at all, except that now there are more autobiographical elements, that's the greatest novelty".
Quicksands. Oil on canvas 150x150 cm.
—And what obsessions do you share with the characters of those works?
—I'm an artist who is nourished by reality. That's the source where my ideas come from: what I see on the streets or hear from people when they talk. Then, it is followed by a maturing process where I try to turn all this into a proper image, because I am not interested in reproducing the reality that surrounds me as it is.
"The obsessions of my characters somehow are always my obsessions. Until now I had dedicated all my work to talk about others, because people and their problems mesmerize me; I think that for the first time in my career I talk about myself. It's just now that I have been able to turn personal conflicts into images. I think that was the biggest challenge".
Another day without news (part of a diptych). Mixed technics on canvas 150x150 cm.
Translated by Jorge Mesa Benjamin / Cubasi Translation Staff