Cuba reiterates its call upon the Security Council to end the situation in Palestine
Cuba reiterates its call upon the Security Council to end the situation in Palestine
Imagen principal: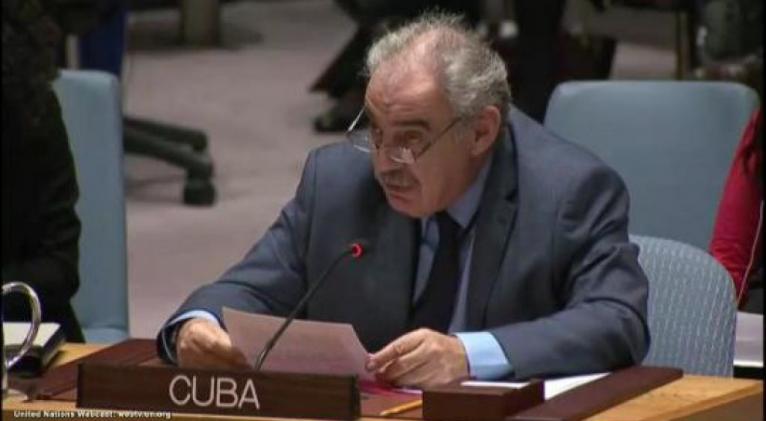 Cuba, once again, condemned the "very complex" situation in the Middle East, marked by "instability and insecurity". At the Security Council Open Debate on the situation in the Middle East, including the Palestinian question, Ambassador Humberto Rivero Rosario, after mentioning statistics that describe the severity of the situation considered that the figures, as alarming as they seem, do not show the real magnitude of this reality for Palestinian families and for future generations of Palestinians.
At this forum, and led by the international community's debt with the Palestinian people, he called to break the silence and immobilism that have caused suffering and unfair humiliation to the Palestinian people and to end impunity over Israel's criminal actions against Palestine. In like manner, he called upon the Security Council to make the necessary decisions and demand that Israel immediately ends the Israeli occupation of Palestinian territory and other Arab territories, as well as to pronounce itself in reference to Palestine's full membership of the Organization, "If it fails to do so, the General Assembly should act with all determination to decide the case", he noted.
Likewise, the diplomat conveyed Cuba's support to the Syrian people's aspirations to live in peace and choose their own fate, while demanding a halt of violations of Syrian sovereignty and the withdrawal of foreign military presence.
"We would like to reiterate our support for a comprehensive, just and lasting solution to conflicts in the Middle East, which will safeguard the sovereignty, safety and territorial integrity of all States in the region", he concluded. (Cubaminrex-Permanent Mission of Cuba to the United Nations)