Multilateral diplomacy helps promote Vietnam's profile globally
Multilateral diplomacy helps promote Vietnam's profile globally
Imagen principal:
A message of Vietnam befriending all countries and uniting with the international community to address global challenges was delivered by Prime Minister Pham Minh Chinh during high-level meetings, such as the 42nd ASEAN Summit in Indonesia in April and the expanded G7 Summit in Japan in May.
This is along with other working trips to Laos in April and the UK in May by President Vo Van Thuong, as well as to Cuba, Argentina, and Uruguay in April by National Assembly (NA) Chairman Vuong Dinh Hue.
These important visits helped Vietnam to strengthen its multifaceted cooperation with its partners, as well as to open up opportunities for it to take advantage of overseas support and resources for socio-economic development.
President Thuong's visit to Laos is a case in point. The President chose Laos for his first overseas visit after he took office, showing the country's respect and desire to cement a great friendship, special solidarity, and comprehensive cooperation with Laos.
PM Chinh, while attending the expanded G7 Summit in Hiroshima, highlighted Vietnam's consistent policy of promoting global partnerships, upholding international solidarity, and pursuing multilateral cooperation.
He expressed the country's willingness to work alongside the UN and other countries in a bid to resolve global issues to ensure that no one is left behind.
Vietnamese Prime Minister Pham Minh Chinh (third from right) and other leaders attend the expanded G7 summit in Hiroshima, Japan, in May.
Most notably, participating countries highly appreciated the Vietnamese side's call for upholding multilateralism, ramping up international cooperation, settling conflicts through peaceful measures, and protecting the security and safety of the people.
Vietnam has taken a balanced and holistic approach to global challenges, especially in terms of food, health, climate change response, energy transition, and environmental protection, said Minister of Foreign Affairs Bui Thanh Son.
On the other side of the hemisphere, National Assembly Chairman Hue's Latin American trip also left a good impression on regional countries. His working trip to Cuba, Argentina, and Uruguay was said to usher in a development period between Vietnam and the three countries on all pillars of politics, diplomacy, parliamentary cooperation, national defence, security, economics, trade, investment, tourism, science - technology, education - training, culture - art exchange, local co-operation, and people-to-people exchanges.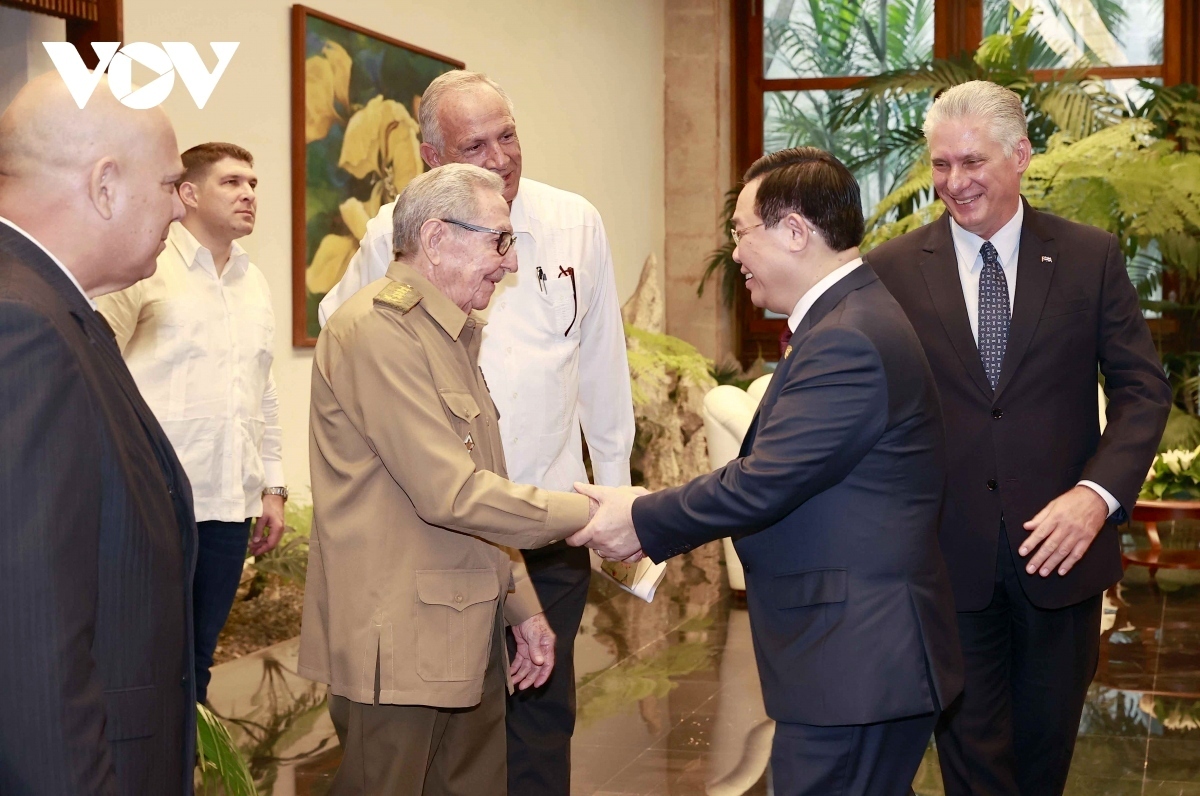 Vietnamese National Assembly Chairman Vuong Dinh Hue meets with Cuban revolutionary leader, General Raúl Castro Ruz and First Secretary, President Miguel Díaz-Canel in Havana on April 20.
Ángel Arzuaga, deputy director of the Foreign Affairs Commission of the Central Committee of the Communist Party of Cuba, noted Hue's Cuba visit was not only symbolic, but also very practical, as it helped to affirm the relationship between Cuba and Vietnam as an exemplary role model in the world.
The working trips to overseas locations by Party and State leaders strongly embody Vietnam's multilateral diplomacy, making an important contribution to enhancing the country's role and position in the world arena. In addition, Vietnam has also emerged as the rendezvous point for business and investment opportunities. On the sidelines of the G7 summit, Vietnam and Japan signed three ODA cooperation projects worth JPY61 billion, equal to US$404 million, for new generation ODA projects to be undertaken in Vietnam.
In a volatile modern world, such high-level working trips have continued to strongly promote a Vietnamese foreign policy of independence, self-reliance, peace and friendship, cooperation and development, as well as multilateralisation, diversification of foreign relations, and proactive international integration.
Vietnam has so far signed more than 500 bilateral and multilateral agreements, ratified and effectively implemented more than 10 new generation free trade agreements (FTAs), and received recognition of its market economy status from more than 70 countries worldwide. It has also emerged as an important link in many economic chains, thereby helping it receive due attention from foreign leaders.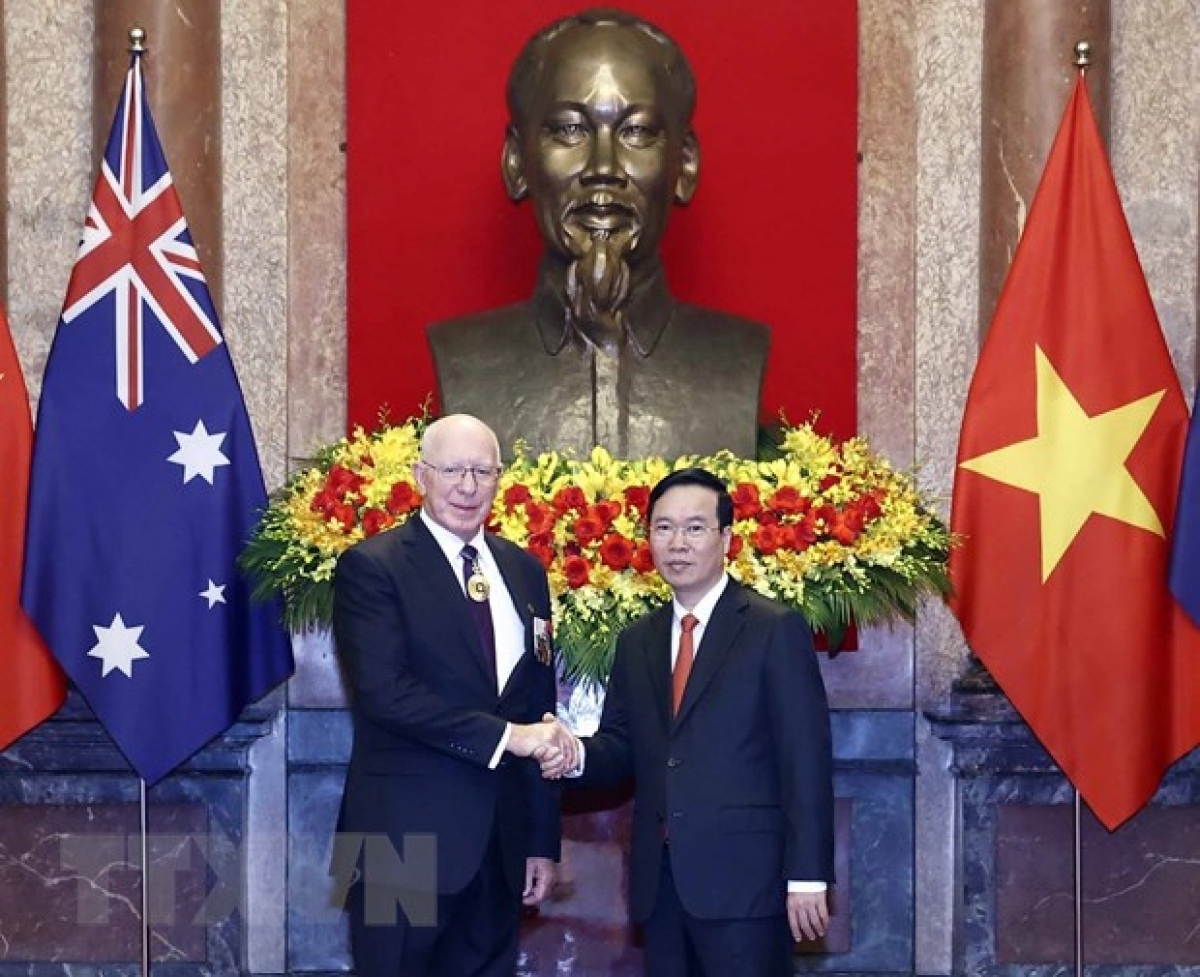 Vietnamese State President Vo Van Thuong (R) welcomes Australian Governor General David Hurley during his visit to Vietnam in early April 2023.
Hanoi has so far this year welcomed a number of foreign leaders and diplomats, including Australia's Governor General David Hurley, Czech Prime Minister Petr Fiala, Prime Minister Xavier Bettel, and US Secretary of State Antony Blinken, along with Park Hark-kyu, president and CEO at Samsung Electronics, and Ngozi Okonjo, director general of the World Trade Organisation. These visits have all demonstrated the increasingly prominent role of Vietnam, as well as its position internationally.
2023 represents an important year in Vietnam's implementation of the Resolution of the 13th National Party Congress and Directive 25 of the Party's Secretariat on promoting and elevating multilateral external relations. High-level visits and meetings between Vietnamese and foreign leaders are therefore expected to provide a fresh impetus to developing multilateral ties between Vietnam and its partners this year and beyond.