Cuban Son Day: "(I was) dancing, mom, dancing casino"
Cuban Son Day: "(I was) dancing, mom, dancing casino"
Imagen principal:
So it went yesterday morning for hundreds of Cubans: playing the clave as a Cuban signature worldwide while people danced in the streets and outdoor parks across the nation.
Our reasons? The truth is we do not need so many reasons to do that as this shows what we are as a nation. But yes, we celebrated a special occasion this time: the eve of the Cuban Son Day on May 8.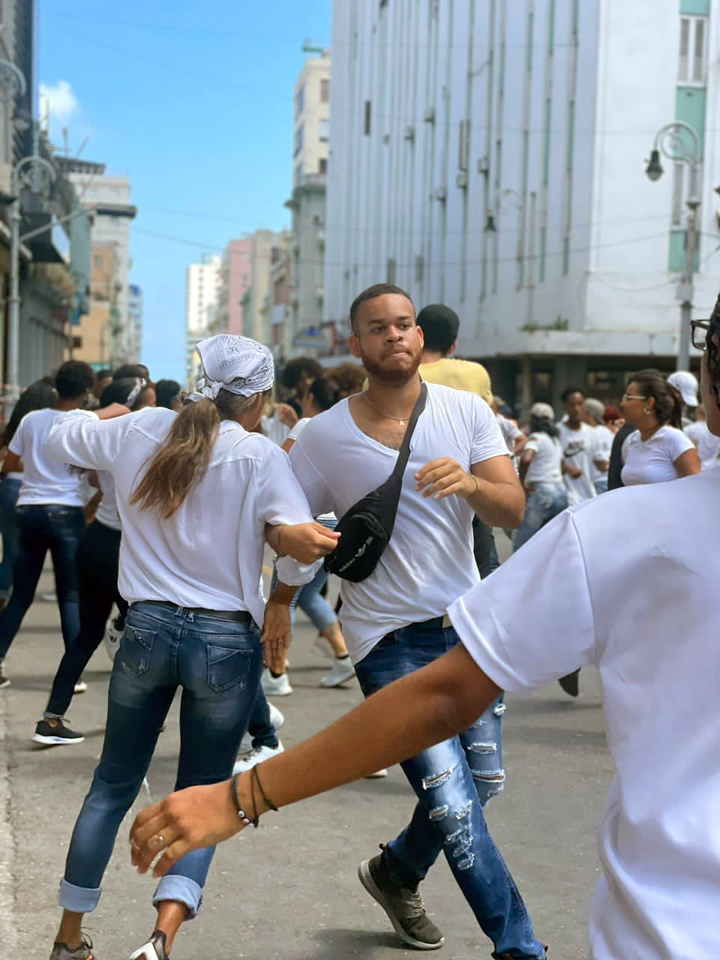 And so it was explained exclusively to CubaSí by one of the promoters of the festivities, Luis Llamo, from the popular corner of Galiano and Neptuno streets in Centro Havana. There, Joaquín Roche, El Oso, founder of the casino in Havana, and Jeremy and Claudia —a couple of teenagers who fuel the faith in the slogan "good things do not get old"— met.
"We are celebrating the National Son Day, taking into account all the work that the greatest of Cuban music did for this spectacular musical genre that has been spread around the world; the legacy that Arsenio Rodríguez left us, Ignacio Piñeiro, Adalberto Álvarez, José Luis Cortez, Juan Formell, among others...," said Llamo and added:
We wanted to pay homage along with the organizers. Our goal is to break a Guinness Record related to the Cuban clave. This was just a warm-up, as this is the core element of Son and so many other rhythms in Cuba.
We want the break a Guinness Record in 2024. We are planning together the highest number of people dancing casino by May 8, 2024. This record is today owned by Venezuela with 1595 dancers. This past Sunday, we carried out a general rehearsal nationwide. We are getting ready for 2024."
The project Retomando el Son, bailando casino has masterminded such initiatives, in coordination with the Ministry of Culture, the National Council of Cultural Houses, the Ministry of Higher Education, FEU, CDR, UJC, among others.
"All united," stated Llamo and highlighted the support of the Municipality Directorate of Culture in the municipality of Centro Habana as well as the administrative government in Havana.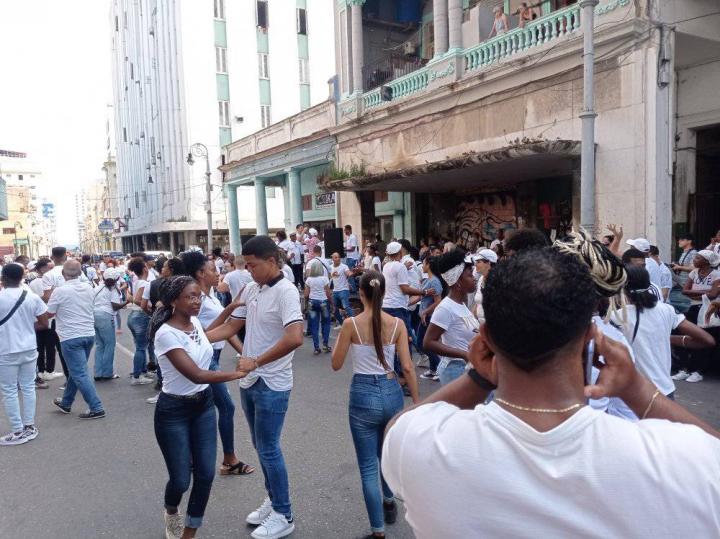 On July 2, at the beginning of the summer festivities, these rehearsals —which are devised to be carried out on monthly basis— will take place again to celebrate the National Son Day, a historic date approved in 2019 thanks to the efforts of great stars of Cuban music like Adalberto Álvarez, and celebrate likewise the birthdays of Miguel Matamoros and Miguelito Cuní.
To break this record, over4 thousand people need to be dancing casino for five minutes. Thus, I urge Cuban people to begin practicing now. If we were given such a gift by God, the Guinness Record will bless us for sure. And more importantly, let's fuel the joy and rhythm that keep us united.
Translated by Sergio A. Paneque Díaz / CubaSí Translation Staff