Cuba to hold a massive May Day once again
Cuba to hold a massive May Day once again
Imagen principal: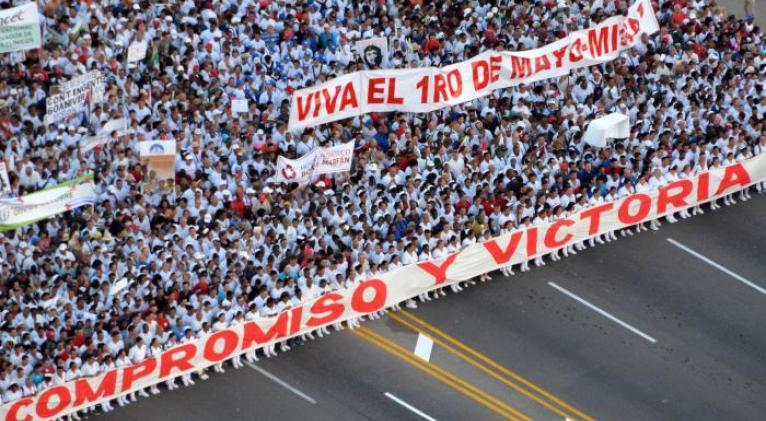 The May Day celebration will be characterized by the mobilization of all the potentialities of the country, including the new players of the Cuban economy, which ensures the increase in production and the diversification of goods and services, as a way to control inflation, with the consequent recovery of the purchasing power of wages and pensions.
The aforementioned was stated by Ulises Guilarte de Nacimiento, member of the Political Bureau of Cuba's Communist Party and head of the Cuban Union of Workers (CTC) in a press conference addressing the celebration of the May Day. There, he insisted on the fact that "there is no mobilization of workers in today's Cuba where boosting offers cannot be addressed as a core issue, as this is what the population demands."
Under the motto A la Patria, manos y corazón (Our Hands and Hearts devoted to our Homeland), the union leader stressed that the celebration of the world proletariat will be dedicated this year to the heroism of the Cuban people, to celebrate the colossal victory in the National Elections, endorsed with the Vote for all as unconditional support to the Revolution and our socialism, and the role of workers, who are the ones who create the majority of goods and services, in consolidating the socio-economic development model.
Besides, Guilarte de Nacimiento pointed out that a tribute will be paid to the National Hero José Martí on the 170th anniversary of his birth, the 145th anniversary of the Baraguá Protest, the 70th anniversary of the assault on the Moncada and Carlos Manuel de Céspedes Barracks, and the 95th anniversary of the birth of the Heroic Guerrilla Fighter Ernesto Che Guevara.
The Secretary General of the CTC highlighted that the celebration of International Workers' Day will take place in labor groups, in which "we will demonstrate the recognition of productive experiences, innovation, teachers and cutting-edge services."
He also said that combative, massive and colorful parades will take place, as well as rallies and events in squares and towns throughout Cuba, proving our unity, patriotism, joy and commitment.
He stressed that these activities seek to achieve a conscious and massive mobilization, which proves the world the message of support and majority unity of the people and workers for the Revolution, its leaders, as well as the commitment to continue consolidating our economic-social model of socialist development.
In Cuba, there is no massive and popular mobilization event bigger than the May Day, said the General Secretary of the CTC, while ratifying that the parade of the workers and the people will give continuity to the successes of the Revolution.
Translated by Sergio A. Paneque Díaz / CubaSí Translation Staff