ALBA-TCP Will Step Up Efforts to Strengthen Regional Integration
ALBA-TCP Will Step Up Efforts to Strengthen Regional Integration
Imagen principal: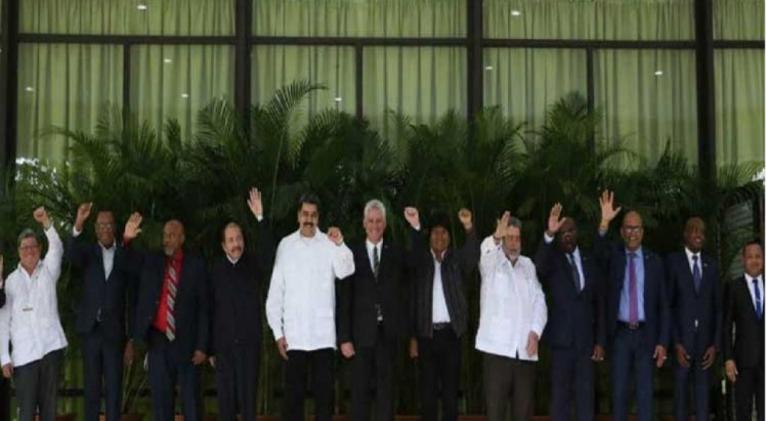 Havana, Dec 15 (Prensa Latina) Member countries of the Bolivarian Alliance of the Peoples of our America-Trade Treaty of the Peoples (ALBA-TCP) committed today to step up efforts to strengthen regional integration.
According to the final declaration of the 16th Summit of the bloc presented Friday night by the Cuban Minister of Foreign Relations, Bruno Rodriguez, the members of the organization expressed their will to build a new international order.
This commitment should stand out for being democratic, inclusive, just and equitable, in which the sovereign equality between States is effective and the respect to free determination of the peoples, stressed Rodriguez in the capital's Convention Center.
We ratify the commitment to the political concertation and conscious cooperation that only unity will give Latin American and Caribbean nations a greater capacity to face the interference and political and economic domination of the global powers.
Members of ALBA-TCP insisted -said Rodriguez- that coercive unilateral measures are contrary to the United Nations Charter and international law, besides threatening peace and world security.
We demand that the World Trade Organization adopts measures to face violations in this sector, he indicated.
The final declaration also condemns aggressive actions against Venezuela and supports the president elect of the South American nation, Nicolas Maduro.
The members of the regional group rejected the interference of the United States, that uses the Organization of American States in its interventionist policy against sovereignty, free determination of Venezuela, Nicaragua and other countries.
We support the government of Nicaragua and its anti-imperialist struggle and the end of the economic, commercial and financial blockade imposed by Washington on Cuba, emphasized Rodriguez.
We reiterate our solidarity with the emblematic Brazilian leader, Luiz Inacio Lula da Silva, political prisoner in his country.
The document expresses likewise the support of ALBA-TCP to the government and people of Bolivia in its struggle to have an outlet to the sea with sovereignty and the signatories called on Chile to renew the dialogue with its neighbor.
The text reiterates its support to Caribbean countries in their claim for compensation due to the genocide of the native population from horrors of slavery and human trade.
We reaffirm the commitment to face climate change conscious that the causes of this phenomenon lies in the irrational and unsustainable models of consumption imposed by the capitalist system.