CARICOM, Cuba pledge to strengthen relations
CARICOM, Cuba pledge to strengthen relations
Imagen principal: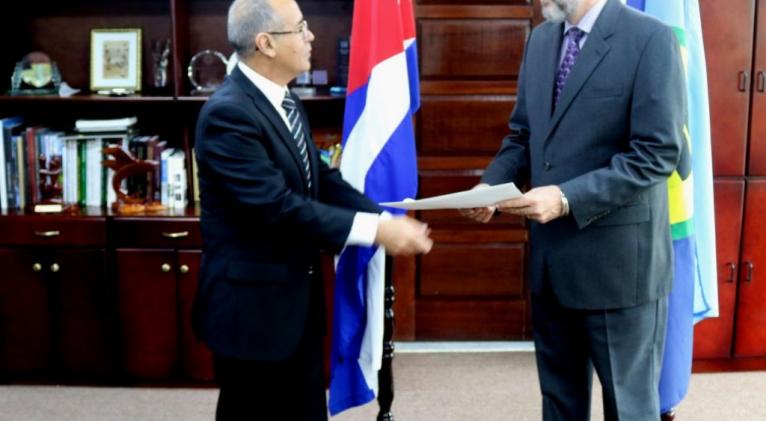 General, Ambassador Irwin LaRocque (right) accepts the Letter of Credence of His Excellency Narciso Reinaldo Amador Socorro, new Plenipotentiary Representative of Cuba to CARICOM Secretary-General of the Caribbean Community, Ambassador Irwin LaRocque, and His Excellency Narciso Reinaldo Amador Socorro, the new Plenipotentiary Representative of the Republic of Cuba to CARICOM, pledged to strengthen even further the fraternal relations between CARICOM and Cuba.
The Ambassador presented his credentials to the Secretary-General on Tuesday 29 May, 2018, at the CARICOM Secretariat's Georgetown, Guyana, Headquarters.
Secretary-General LaRocque recalled that four CARICOM countries, Barbados, Guyana, Jamaica and Trinidad and Tobago ended the diplomatic isolation of Cuba in 1972 and the relations with Member States individually and the Community have been mutually beneficial.
He reiterated the Community's support for Cuba against the economic and financial embargo imposed by the United States and assured the Ambassador that CARICOM was resolute in its position on the issue. The Secretary-General also once again expressed condolences on behalf of the Community with respect to the recent airplane crash in Cuba which claimed more than 100 lives.
Ambassador Amador thanked the Community for its support and solidarity with respect to the embargo and accepted the condolences for the loss of lives in the disaster on behalf of his government.