Borrero Caps Amazing Run to Greco 67kg Title by Dethroning Surkov
Borrero Caps Amazing Run to Greco 67kg Title by Dethroning Surkov
Imagen principal:
Ismael BORRERO (CUB) had one last world champion to vanquish, and this one happened to be the reigning one. Now it's the Cuban who occupies the throne again going into an Olympic year. 
Borrero, the Rio 2016 Olympic champion, capped a spectacular run at the World Championships by capturing the Greco-Roman 67kg title with a 3-1 victory in the final over defending champion Artem SURKOV (RUS).
The victims that Borrero left in his wake en route to the gold reads like a Who's Who of the weight class – three-time world champion Frank STAEBLER (GER), two-time champion and Olympic medalist RYU Hansu (KOR), and rising star Mohamed ELSAYED (EGY).
"So many champions…I wrestled with focus and tried my best to win," said the 27-year-old Borrero, who lost in the third round at last year's World Championships in Budapest.
The final offered little respite in the form of Surkov. But Borrero was up to the task, scoring a 2-point exposure in the par terre position in the first period, then holding off Surkov's attempts when he was placed on bottom in the second period.  
"I'm a lot stronger this year than the last two years," Borrero said. "I've worked on some techniques, but mostly on my strength. The strength is important because of the bigger weight."
Borrero won his last world championship at 59kg in 2015, then followed that by taking home the gold the following year from the Rio Olympics. That's a pattern he would like to repeat at the Tokyo 2020 Olympics. 
"It was very important [to win tonight]," he said. "I've been a champion at 59[kg] and now I'm champion at 67."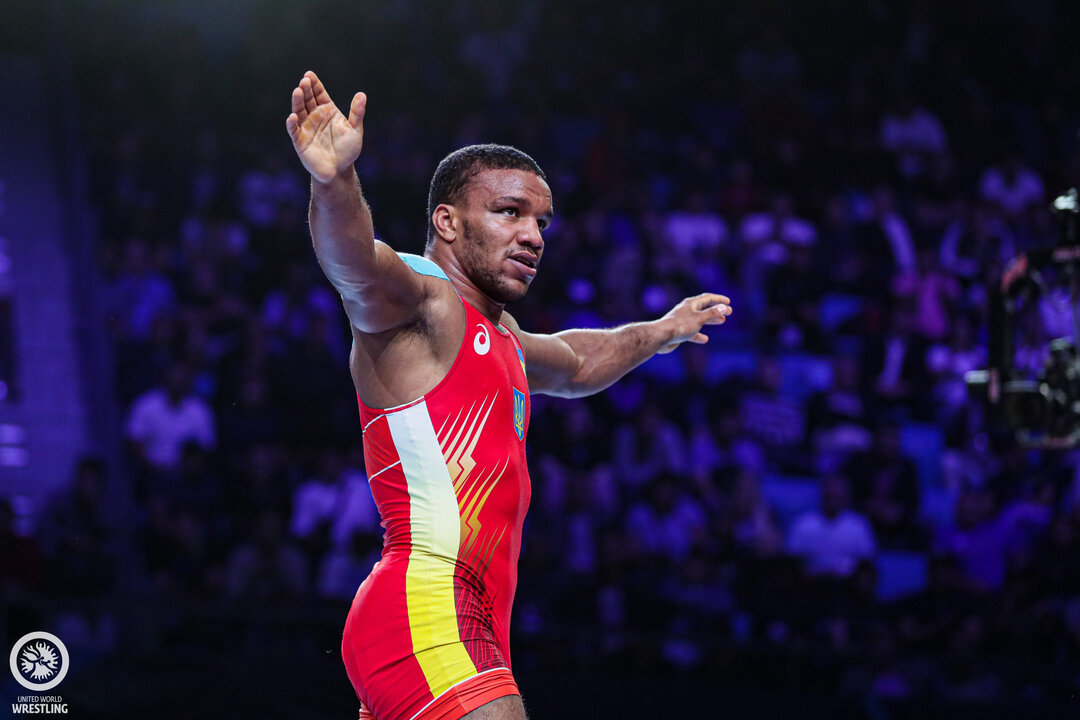 Zhan BELENIUK (UKR) improved on his 2018 world silver medal by edging Viktor LORINCZ (HUN), 2-1, in the 87kg finals. (Photo: Kadir Caliskan)
Like Borrero, Zhan BELENIUK (UKR) regained the world title he last won in 2015, as the 2018 silver medalist moved back to the top of the podium at 87kg by grinding out a 2-1 win over Viktor LORINCZ (HUN). 
"It was a difficult match because Viktor Lorincz is a very strong guy," Beleniuk said. "It was a very hard match for me and I'm so happy I could win because I worked so hard to get first place."
All points in the final were scored for passivity, and Beleniuk received the decisive second one in the second period to defeat Lorincz, a two-time world bronze medalist in 2013-14. Earlier in the session, Lorincz saw older brother Tamas advance to Tuesday's final at 77kg.
With the top six wrestlers in each of the Olympic weight classes earning spots for their country at Tokyo 2020, Beleniuk set a minimum goal of clinching a spot. The "maximum," naturally, was winning the world gold. 
But that wasn't the only reason he wanted to capture the title. Beleniuk has been serving as a deputy to Ukraine President Volodymyr Zelenskyy, advising him on sports matters, and there has been criticism of his splitting time between his government position and his preparation for the world championships. 
"In Ukraine, some people criticize me [about the two roles], so it was very important to win here and show the people that I can do both," said Beleniuk, a silver medalist at both Budapest 2018 and Rio 2016.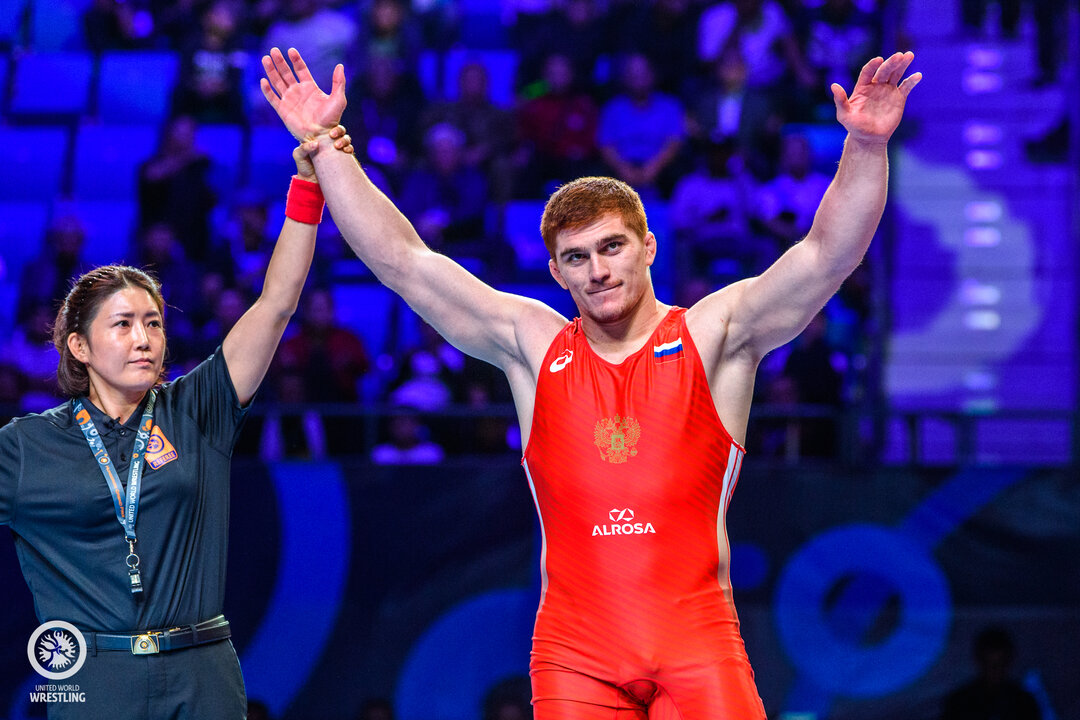 Musa EVLOEV (RUS) won his second consecutive world title with an injury default over Artur ALEKSANYAN (ARM) in the 97kg finals.(Photo: Tony Rotundo)
Meanwhile, Musa EVLOEV (RUS) retained his world title at 97kg without having to break a sweat, as final opponent Artur ALEKSANYAN (ARM) was forced to default due a rib injury suffered during the tournament. 
Evloev's ascendance has heralded a changing-of-the-guard in the weight class, as Aleksanyan had been the dominant force, winning world and Olympic golds from 2014 to 2017.
Evloev beat the Armenian in the semifinals last year in Budapest, avenging a loss to Aleksanyan in their first-ever meeting, in the final of the 2017 World Championships in Paris. 
The Russian said he had been looking forward to their latest clash, and was not aware that he would win by default until the two wrestlers took the mat for the official decision. 
"I didn't know until the last seconds," Evloev said. "Artur is a good friend, but on the mat, he is a strong opponent. I was really waiting for this."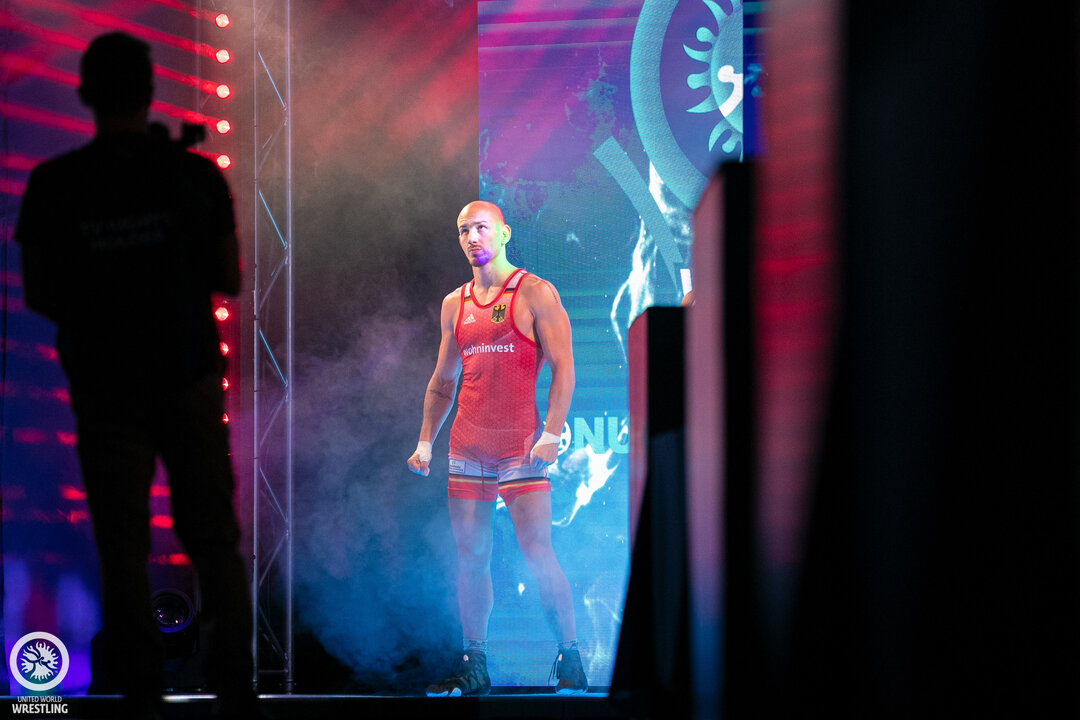 Frank STAEBLER (GER) rebounded to win a bronze medal after falling to eventual champion Ismael BORRERO (CUB). (Photo: Kadir Caliskan)
In the third-place matches, Germany and Serbia both came away with a pair of bronze medals. 
Staebler fell behind 5-0 to Elsayed at 67kg, but, helped by a 2-point fleeing penalty, came back for a 6-5 victory that he clinched with a stepout with :49 left. The other bronze went to Mate NEMES (SRB), who overwhelmed Fredrik BJERREHUUS (DEN) by 10-0 technical fall.
At 87kg, Rio 2016 bronze medalist Denis KUDLA (GER) and Asian champion Rustam ASSAKALOV (UZB) both added bronzes to world silvers they had previously won. Kudla edged Mikalai STADUB (BLR), while Assakalov defeated Atabek AZISBEKOV (KGZ) 6-2.
Mihail KAJAIA (SRB) and Cenk ILDEM (TUR) earned the bronzes at 97kg, with the former topping Tadeuz MICHALIK (POL) by 9-1 technical fall and the latter beating Giorgi MELIA (GEO) 4-1.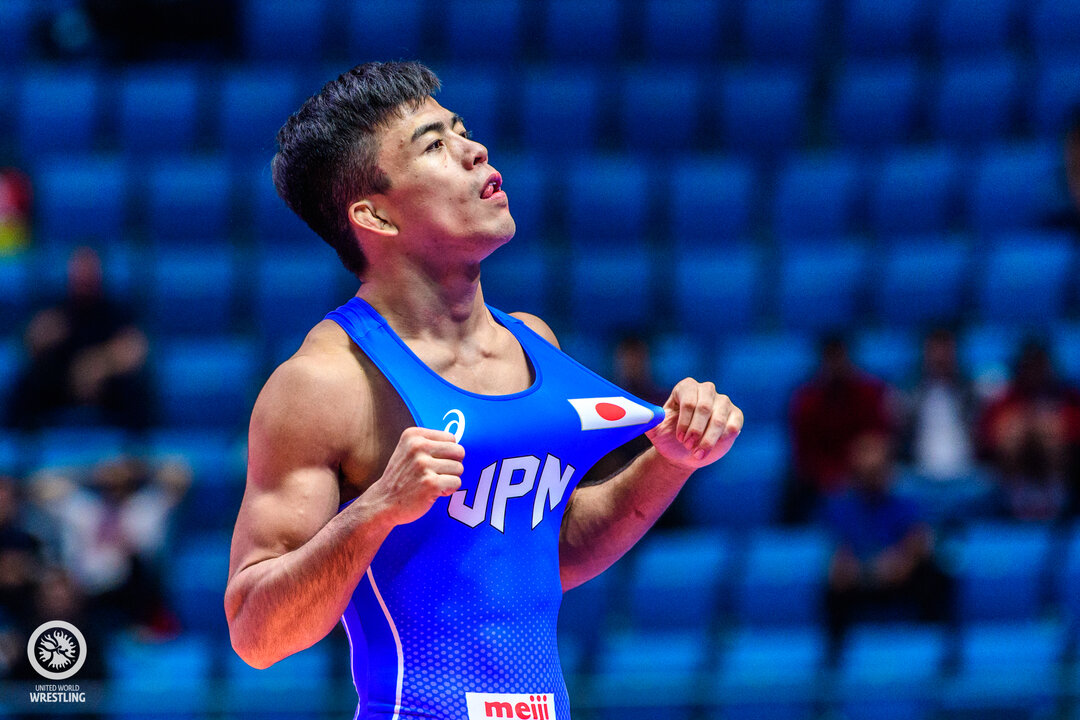 Kenichiro FUMITA (JPN).will take on returning world champion Sergey EMELIN (RUS) in the60kg finals on Tuesday night. (Photo: Tony Rotundo)
Emelin, Fumita set up clash between current, former champs in 60kg final 
Earlier in the night session, the semifinals were held in the remaining three Greco weight classes, and defending champion Sergey EMELIN (RUS) set up a battle for the 60kg gold with his predecessor, Kenichiro FUMITA (JPN).
Emelin capped a near-perfect performance with his fourth straight technical fall of the day, easily beating Mirambek AINAGULOV (KAZ) by 8-0 in 4:30. That was only three seconds longer than the time it took for Fumita to oust Alireza NEJATI (IRI) by a 10-1 score. 
Fumita, coming off a disappointing third-place finish at the Asian Championships, scored eight points from the par terre position in the second period in his latest solid performance of the tournament. 
"I didn't allow him to lock me up [from the standing position], and I was able to resist being rolled [from par terre], so it was a good showing," Fumita said. 
For Fumita, by being assured of at least a silver medal, clinched a place for himself at the Olympics in his homeland. The Japan federation has decreed that any wrestler winning a medal in Nur-Sultan in an Olympic weight class automatically fills that spot at Tokyo 2020, without any further qualification process. 
"I'm really riding high right now, but I need to overcome this joy with a full effort in tomorrow's match," he said.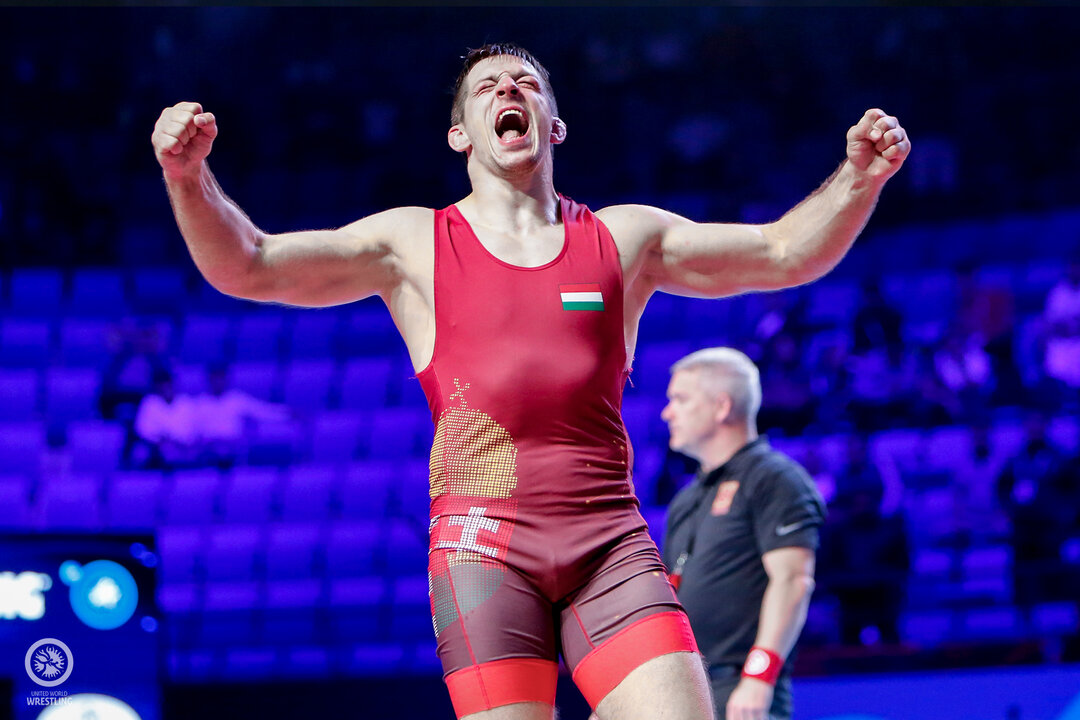 The 77kg final will pit Tamas LORINCZ (HUN) against Alex KESSIDIS (SWE). Lorincz broke some Kazakhstan hearts when he ousted Ashkat DILMUKHAMEDOV (KAZ), 1-1, as his passivity point came last. Kessidis scored a 4-point throw with 1:25 left to stun Karapet CHALYAN (ARM) 5-2.
At 130kg, Riza KAYAALP (TUR) will add to his extensive world medal collection after advancing to the final with an untroubled 4-1 win over Eduard POPP (GER). He will face Oscar PINO HINDS (CUB), who defeated Amir GHASEMI (IRI), 6-2.
Dating back to 2009, Kayaalp has three world golds, two silvers and two bronzes. That's not to mention his two Olympic medals---a silver in 2016 and bronze in 2012.
Day 3 results
Greco-Roman
60kg (39 entries)
Semifinal – Sergey EMELIN (RUS) df, Mirambek AINAGULOV (KAZ) by TF, 8-0, 4:30
Semifinal – Kenichiro FUMITA (JPN) df. Alireza NEJATI (IRI) by TF, 10-1, 4:27
67kg (41 entries)
Gold – Ismael BORRERO (CUB) df. Artem SURKOV (RUS), 3-1 
Bronze –Mate NEMES (SRB) df. Fredrik BJERREHUUS (DEN) by TF, 10-0, 1:47
Bronze – Frank STAEBLER (GER) df. Mohamed ELSAYED (EGY), 6-5
77kg (38 entries)
Semifinal – Alex KESSIDIS (SWE) df. Karapet CHALYAN (ARM), 5-2
Semifinal – Tamas LORINCZ (HUN) df. Ashkat DILMUKHAMEDOV (KAZ), 1-1
87kg (39 entries)
Gold – Zhan BELENIUK (UKR) df. Viktor LORINCZ (HUN), 2-1  
Bronze – Denis KUDLA (GER) df. Mikalai STADUB (BLR), 2-1 
Bronze – Rustam ASSAKALOV (UZB) df. Atabek AZISBEKOV (KGZ), 6-2 
97kg (37 entries)
Gold – Musa EVLOEV (RUS) df, Artur ALEKSANYAN (ARM) by DEF.
Bronze – Mihail KAJAIA (SRB) df. Tadeuz MICHALIK (POL) by TF, 9-1, 4:40 
Bronze – Cenk ILDEM (TUR) df. Giorgi MELIA (GEO), 4-1
130kg (31 entries)
Semifinal – Oscar PINO HINDS (CUB) df. Amir GHASEMI (IRI), 6-2 
Semifinal – Riza KAYAALP (TUR) df. Eduard POPP (GER), 4-1