On World Records and Doping: Sotomayor and Yipsi have the Floor.
On World Records and Doping: Sotomayor and Yipsi have the Floor.
Imagen principal: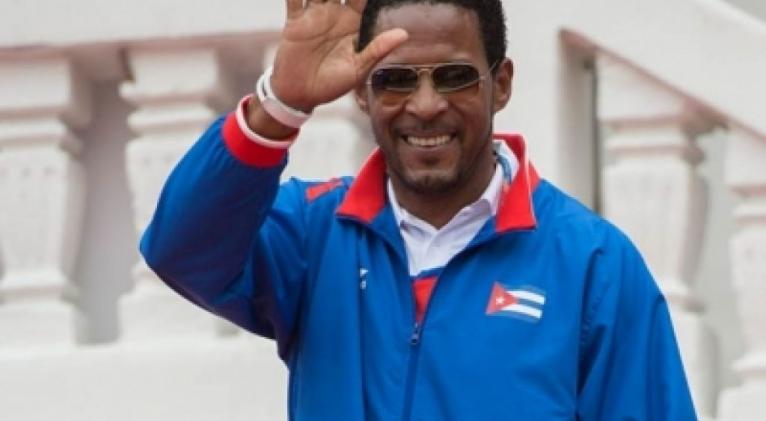 We are witnessing an athletic revolution as a crusade war against doping, especially in the track and field. Some Cuban athletes offer their views on the subject to CubaSi.
On a proposal by the EAA (European Athletics Association), in the voice of its president Norwegian Svein Arne Hansen, it came to light the idea of removing all world records set before 2005. Such initiative has the support of IAAF current president Sebastian Coe.
As soon as the proposal was aired, athletes and federations from all over the world have reacted.
We are talking about doubts in 30 out of the 43 European records…
If such a thing was not enough, 111 new cases have tested positive in the reanalysis carried out to the samples of Beijing 2008 and London 2012, according to the latest data released by the IOC last April 24th.
Regarding this tsunami associated to doping and doubtful records, which is disapproved by many of the current protagonists, the Cuban Olympic Committee took a stand. Cuba has two world record holders before that date, high jumper Javier Sotomayor 2.43m (indoor in 1998) and 2.45m (outdoor in 1993), and javelin thrower Osleidys Menendez (71.54m in 2001 and 71.74m in 2005).
"Scientific arguments should be given to approve a decision of this kind. It will be only fair if we prove it scientifically. Removing records because you have doubts is nonsense. Those world-record holders are not guilty that samples —at that time— could not be preserved to present times to be tested again".
Even though the intention is to eradicate any suspicions triggered by the magnitude of certain times and marks, as well as the shameful episodes experienced in the sports, nothing would justify this crusade with no arguments.
We back, of course, any step taken with the help of the available scientific upgrade. We also support all the preventive actions, which seem to be not enough amidst ills such as excessive commercialization, talent drain, nationalization for convenience, and other evils that foster the premise of winning at all costs…" the Cuban Olympic Committee subscribed in an official statement.
VOICES FIRST HAND
Javier Sotomayor, world-record holder in high jump and one of the possible athletes affected if the IAAF congress passes the proposal put forth by Europe, commented to CubaSi:
"I believe excessive the proposal of the European Association. With no scientific basis, a series of records cannot be jeopardized. In my personal view, if my record were to be removed from the IAAF books, I would feel world-record holder as before until someone jumps up to the 2.46m.
It certainly generates uncertainty. Some of us feel awkward, questioned with this situation. The goal is to put into question the results of several athletes. So many years of efforts, sacrifices, jumps, and hard training cannot be jettisoned. I am against condemning to oblivion relevant figures who have given prestige to track and field throughout the years. I am not opposed to the right fight against doping. It is a scourge and any action to reverse it is laudable. However, as there is no scientific evidence, it seems something hasty to me".
Yipsi Moreno, former hammer thrower who was among the elite of her discipline for three Olympic cycles, was one of those sports athletes who benefitted with the gold medal in Beijing 2008, after Belarus Aksana Miankona tested positive in a reanalysis. The truth is that Yipsi is well-involved in Cuban athletics and she agreed to air her opinion in the Barrientos Memorial.
"I do not agree with this project. I believe that records of such magnitude, if not proven fraudulent, we would be depriving those stars of shine and validity. If you set a record and everyone can break it later…where is the exceptional nature of the record, then?"
Can you picture in your mind that what Usain Bolt does can be done by anyone? Much has been said about the possibility he has been under the effects of doping. In fact, if the samples are tested in a period of ten years, and you do not detect it, you can break the history, his image, and stop motivations and aspirations of many.
How did Yipsi coexist with the doping phenomena? What made you exceptional without using any drugs?
Despite consuming those drugs, athletes have their raw talent. There have been cases of drugged athletes who have maintained their levels of mediocrity. I bet to my star, my sacrifice, and raw talent. I am happy to have won some medals and being in the elite of my sports discipline without cheating.
I would penalize those cheaters in sports with sanctions ranging from 4 years to a lifetime ban. The best example is Russian Tatyana Lysenko, twice exposed.
Cuban athletics have always been in a very good position regarding doping. How would Yipsi assess the past and present times?
"It affected you in the past. But it is not the end of the world. Now and then, there is lack of control, discipline. It is true there are drugs harder to find than others. But in the end, this phenomenon of cheating benefits one, two…perhaps many. But cheaters will be always caught".
THE HURRICANE EYE
A truly Pandora's Box, the so-called King of sports is the second with more positive alerts reported after weightlifting. 48 athletes have been caught thanks to these reanalysis. Russia is drawing the attention. Banned since 2015 by the IAAF, the doping issue goes beyond that country. We let you analyze and see the proposal that is being discussed these days as well as its possible implications.
In January, the Executive Committee of the European Athletics Association (EAA) named a special team to reanalyze European records. The IAAF joined the project. After four months of work, such group has proposed four criteria of record recognition from now on:
1) The performance is achieved at competitions on a list of approved international events where the highest standards of officiating and technical equipment can be guaranteed,
2) The athlete has been subject to an agreed number of doping control tests in the months leading up to the performance and
3) The doping control sample taken after the record is stored and available for re-testing for 10 years.
Translated by Sergio A. Paneque Diaz / CubaSi Translation Staff