Vital Teatro to premiere play "Cuarentena"
Vital Teatro to premiere play "Cuarentena"
Imagen principal: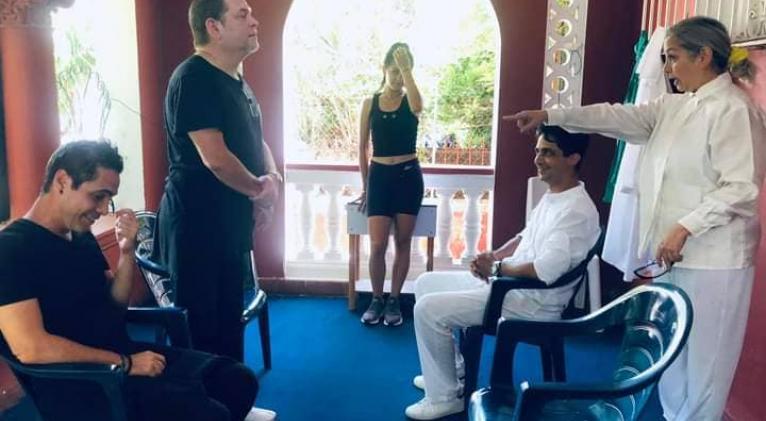 Havana's theater company Vital Teatro is working on the staging of Cuarentena, a play by Matanzas' playwright Ulises Rodríguez Febles, which will be in theaters soon at Fausto Theater, Matanzas, while is scheduled to be staged at Adolfo Llauradó Hall in Havana next September.
In this regard, we talked to the general and art director of the company, Alejandro Palomino, who updated us on the staging process:
"It is almost done. And I tell you "almost" because we are talking about a performative phenomenon that never ends, it rather grows in the exercise of the confrontation and exchange with the public. It is living phenomenon, demanding, obsessed and even selfish in the creative process as it always demands readjustments depending in the actor's development on stage resulting in a powerful scope of the dramaturgical play. But the initial proposal —which is already waiting for the kick-off whistle— is ready to generate debates."
"Cuarentena is not the first Ulises' play we have staged," Palomino said, and recalled the staging of Beisbol and the one-man shows Observando ganar a los Yankees de New York and Frida, yo soy María.
In the words of the also actor, this journey led them to review, "although they were not signed by the group on stage, other titles such as El concierto, Huevos o Carnicería, to unravel many of this author's interests resting in that hidden area or second nature of the text, the subtext."
"In the case of Cuarentena, the dramatic situation takes highly complex twists, according to the interests of the characters within the context of the early days of COVID-19 in Cuba and its impact on our thinking as a society and daily actions. The human drama about existence; the force with which the clashes of wills are presented in the play; Fernanda's deep conviction; the reduction of spaces of movement, of individual freedom; the phenomenon of social behavior; socioeconomic uncertainty; all of which are expressive elements, plus the presence of the power of love and death. These are our obsessions to share with the public from Cuarentena as a text for the national scene and as a historical and faithful document denouncing these times that, on an international scale, are definitely turbulent.
Regarding the creative process of the play, he stated that it was: "Arduous, awkward, accompanied by all the delicate and necessary process of isolation and confinement, plus the growing economic difficulties that plague the country, especially theatrical productions. And it was even ironic when two of our actors were infected with the virus and the investigation process and the subsequent staging had to be stopped for a long time."
He did not want to reveal details of what we will find in Vital Teatro's approach to this text: "I better leave it for observation and exchange with the audience, that sacred moment in which the theater is not only a singular building, rather it becomes in a space of absolute freedom always characterized by respect for "whoever sits next to me," the quintessential definition of the word dissident."
"So I am inviting you to Cuarentena to hold together that moment of life and good debate. Without the public, no creative process —which, by the way, is agonizing— achieves its goals."
Translated by Sergio A. Paneque Díaz / CubaSí Translation Staff