Conjunto Foclorico Nacional to stage Defending Traditions show
Conjunto Foclorico Nacional to stage Defending Traditions show
Imagen principal: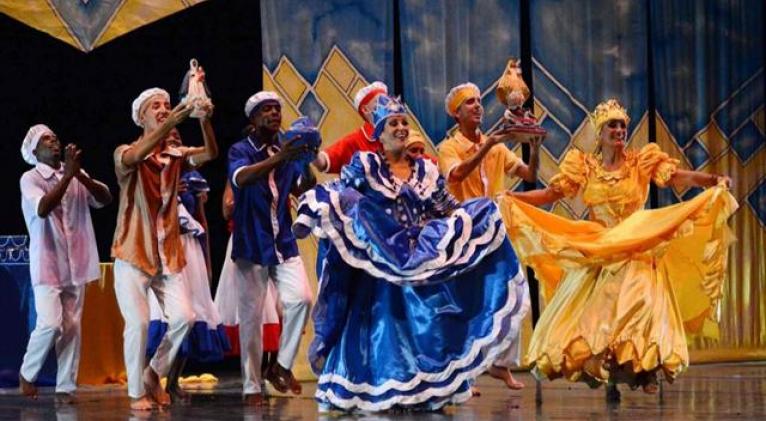 Havana, Nov 22 (Prensa Latina) The Conjunto Folclorico Nacional de Cuba will stage the Defending Traditions show on November 25, 26, and 27 to celebrate its 60th anniversary, the Ministry of Culture reported on Monday.
The program, to be presented at the Avellaneda Hall of the National Theater includes two premieres directed by choreographer Manolo Micler, which will bring together two deities of the Yoruba religion, Ogun Oshaniwe, and Iyalode, after which this piece is entitled, with voiceovers by Afro-Cuban singer Lazaro Ros (1925-2005) and actress Monce Duany.
In the third performance on Sunday, the show will pay tribute to Maestro Micler, who will be retiring after 56 years, and will also acknowledge other choreographers who left their legacy on the company, such as Ramiro Guerra, Santiago Alfonso, Ana Caseres, Leivan Garcia, Yandro Calderon, among others.
The cast is made up of Compañia de Danza Teatro Villa de San Cristobal, directed by Rafael Perez Gil, and Ballet Español de Cuba, which will present the piece Mediterraneo, as well as Muñequitos de Matanzas, directed by Maestro Diosdado Ramos.
The show was awarded the Templo de Oro (Golden Temple) and Bandeja de Plata (Silver Tray) at the festivals El Almendro en Flor, in Italy, and Birmingham, in the United Kingdom, respectively.
Conjunto Folclorico Nacional de Cuba stands out for its contribution to the rescue and rehabilitation of the region's dance and musical roots.