Can Türkiye go three in a row?
Can Türkiye go three in a row?
Imagen principal:
It is time for the biggest women's national team volleyball event of the year, the FIVB Road to Paris Volleyball Qualifiers, set to take place in three locations from September 16 through 24. The world's best 24 teams are split into three round-robin pools of eight. Six of them, the three pool winners and the three pool runners-up will book coveted tickets to next year's Olympic Games in Paris.
Let's take a look at Pool B, to be played in Tokyo, where Argentina, Belgium, Brazil, Bulgaria, Japan, Peru, Puerto Rico and Türkiye will compete for two spots at Paris 2024.
Watch the FIVB Road to Paris Volleyball Qualifiers live on VBTV
Türkiye have had a perfect 2023 season so far. They won both tournaments they took part in, both for the first time in history. Guided by coach Daniele Santarelli, who led Serbia to the FIVB Volleyball Women's World Championship crown and Italy's Prosecco Doc Imoco Conegliano to the Volleyball Women's Club World Champs title in 2022, and powered by new stellar Cuban-born addition Melissa Vargas, the Turks triumphed in Volleyball Nations League 2023 and at the 2023 CEV European Championship, rising to the number one position in the FIVB World Ranking. Between the two competitions, Türkiye are on a 15-game winning streak and look well set to continue it in Tokyo, hoping to make it three in a row and aiming at their third Olympic appearance, after 2012 and 2021.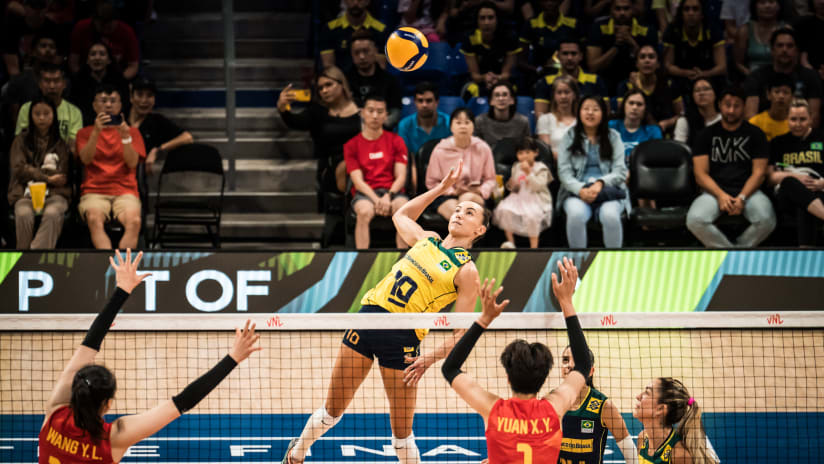 Brazil's Gabi in attack during the VNL 2023 quarterfinal against China
Mighty Brazil are also among the favourites for the Olympic tickets from Tokyo to Paris. Olympic participants without interruptions since the 1980 Games in Moscow, they have already collected two gold and two bronze medals, in addition to the silver medal they claimed at the last edition, Tokyo 2020. The Brazilians finished fifth in VNL 2023 and then won the South American Championship without dropping a single set, led by their star captain Gabriela Guimaraes. They are currently the number four team in the world.
In addition to being the next highest ranked team among the eight, number eight in the world Japan will also have the home-court advantage in Tokyo. They were the first and the most recent hosts of volleyball at the Olympics and, in between, they skipped the Games only twice and collected two gold, two silver and two bronze medals. Japan is the women's team with the highest number of Olympic appearances as they hope to qualify for the 14th time. This year, after finishing seventh in the VNL, they went on to claim AVC Asian Championship bronze.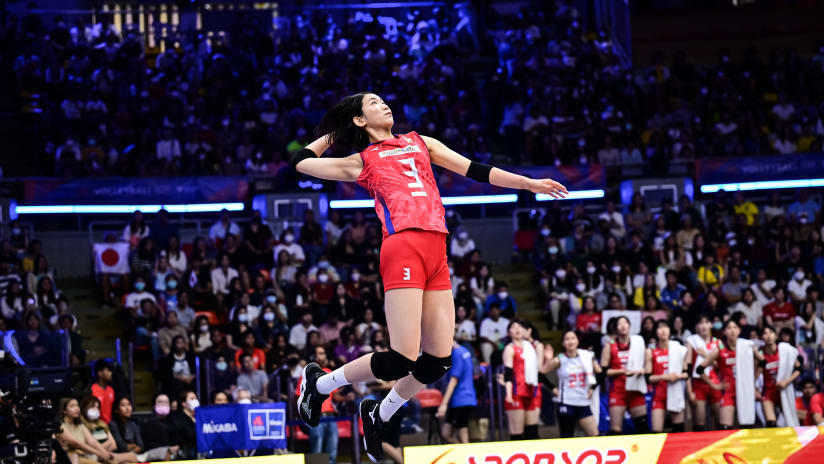 Japan's captain Sarina Koga serving during the 3-2 victory over Türkiye in VNL 2023
While lower on the odds list, the remaining teams have their chances and are certain to give their best in the most important competition of the year. World's number 13 Belgium are aiming at a historic first Olympic appearance. Number 16 Bulgaria hope to make it the Games for the second time, after their 1980 bronze. 2023 South American Championship runners-up and number 19 in the world Argentina will try to make it three in a row, after competing at Rio 2016 and Tokyo 2020. Earlier this season, Puerto Rico won the 2023 NORCECA Final Four to qualify for Volleyball Challenger Cup 2024. Now the world's 22nd-ranked team will try to qualify for their second Olympics, after appearing at Rio 2016. And last, but not least, Seoul 1988 Olympic silver medallists Peru, currently number 29 in the world, will attempt to secure their eighth Olympic participation and first since Sydney 2000.
The tournament in Tokyo serves off at 10:00 local time (01:00 UTC) on Saturday with an all-European clash between Belgium and Bulgaria. The first competition day also offers Türkiye's encounter with Puerto Rico at 13:00 (04:00), the classic South American derby between Brazil and Argentina at 16:00 (07:00), and hosts Japan's opening game against Peru at 19:25 (10:25).
Japan's games against Türkiye and Brazil on the last two competition days, September 23 and 24, respectively, are certain to draw the most attention from the fantastic home fans in Tokyo, while the anticipated clash between Türkiye and Brazil themselves is set to take place on September 22 at 16:00 (07:00).
Every competition day between September 16 and 24 features all eight participating teams engaging in four matches on the day's programme. September 18 and 21 are rest days.