Soviet-era bunkers help Lugansk residents hide from Kiev troop shelling
Soviet-era bunkers help Lugansk residents hide from Kiev troop shelling
Imagen principal: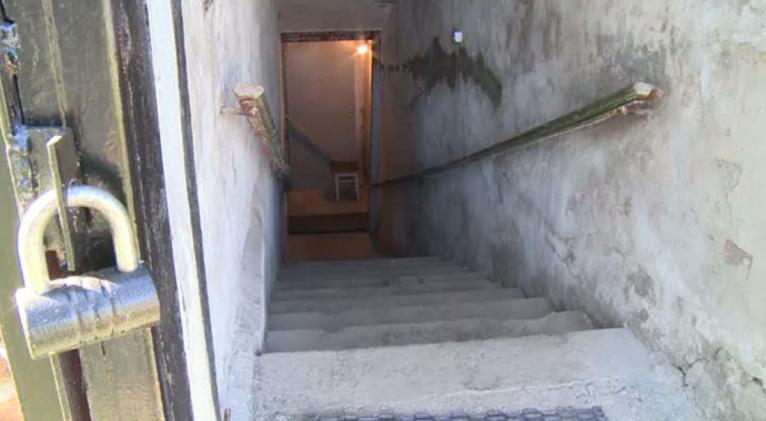 Cameraman for Russia's top broadcaster killed in E. Ukraine
"They keep bombing us – which is why we are working here…This is our bomb shelter - Watch out!" Vadim Streltsov a Lugansk resident, told RT's Marina Finoshina.
Streltsov volunteered to clean up bunkers that were built in Cold War times, when Ukraine was part of the Soviet Union.
"As you can see, the infrastructure is destroyed, so we're taking the most important first steps to fix it, and allow people to shelter here," he said on a tour of the bunker with RT.
According to the Lugansk residents, the facility has everything people need if Kiev troops start shelling the city again.
"Here we've got beds, and we also have drinking water.500 [liters] here and another 500 in another room…You can easily live here for at least a week," Vitaly Dubinin, local resident told RT, adding that they also have warm clothes, a kitchenette and first aid kits.
This is not the only bomb shelter in the city as Lugansk has about 100 of them. And they are helpful as even during the interview with Vitaly, one could distinctly hear the sound of shooting.
'Let's wage war!' Huge crowd rallies in Kiev for end of ceasefire, martial law (VIDEO)
According to Vitaly, it was coming from the village of Metallist, 10km from Lugansk.
"They're trying to enter the city, and are attacking the outskirts," added Dubinin.
The shooting occurred despite the truce between Kiev troops and self-defense forces in eastern Ukraine which expires at 10pm (19:00 GMT) on Monday.
Vitaly Dubinin, local resident walks in the bomb shelter in Lugansk, eastern Ukraine (screenshot from RT video)
Vadim's little daughter Nastya sees bombings and explosions almost every day.
"The sky was lit up with explosions when we were walking home through a field. Then there were sirens and everyone started running away - it was terrifying," she described her experience with the bombings, "The same thing happened later that night."
The regions of eastern Ukraine have been continuously targeted by Kiev troops in the recent months. According to UN reports, at least 356 people, including 257 civilians, have died since the beginning of the 'anti-terrorist' operation in the eastern regions of Lugansk and Donetsk. There were 14 children among the dead.
Fearing deepening of the crisis, scores of refugees have left the country. The number of Ukrainian refugees in Russia has reached 110,000 people, the UN's refugee department stated.
Vadim Streltsov, local resident, opens a door to the bomb shelter, Lugansk, eastern Ukraine (screenshot from RT video)