Russia overestimated EU's independence from US – Lavrov to French media
Russia overestimated EU's independence from US – Lavrov to French media
Imagen principal: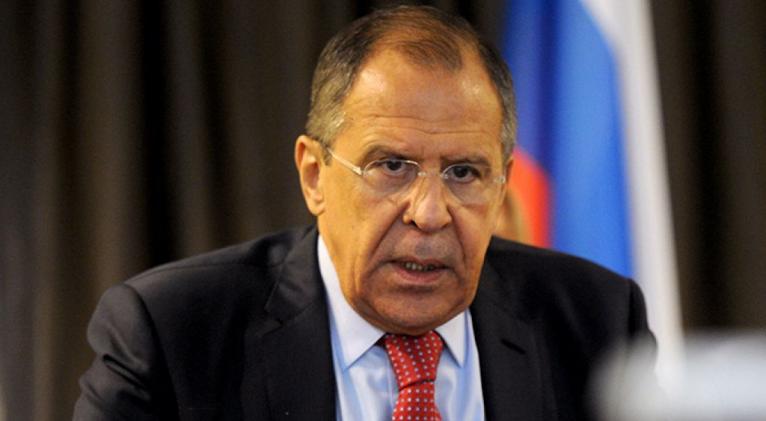 France 24: Hello, and welcome to Moscow, welcome to Exclusive. Our guest today is the Russian Foreign Minister, Sergey Lavrov. Mr. Lavrov, thank you for being on the show.
Sergey Lavrov: My pleasure.
F24: Mr. Lavrov, let's begin with the crisis in Ukraine. It's been going on for months, however, there seems to be maybe some optimism. There were rumors that Moscow was ready to host maybe some negotiations. Can you tell us about the latest...?
SL: Well, there is reason for some cautious optimism, but the news which you just mentioned, about Moscow being ready to host some meeting, is new to me. We have been in agreement with our Ukrainian colleagues, colleagues from the OSCE and the people from Lugansk and Donetsk area. We have been pushing for convening another meeting in Minsk of the contact group, which is very important to make sure that we intensify the implementation of the Minsk protocol signed in September, and that's what we're trying to achieve at the moment.
F24: Are you optimistic that there will be such another meeting? Because it seems that the previous agreement isn't really being implemented on the ground.
SL: As far as I understand, the reason for delay of this meeting is linked to the desire of the people from Donetsk and Lugansk to include on the agenda not only the ceasefire implementation, which is something absolutely necessary, and also exchange of hostages – and they are still discussing how many and trying to verify the lists. But the people from Donetsk and Lugansk, they also want – which, I believe, is very important as well – to start discussing economic issues. They also have been covered by the Minsk protocol and [it] provides for economic interaction to be resumed and restored. And as far as I can understand at the moment, the representatives of the government are not yet ready to discuss economy, which is a cause of concern.
F24: But shouldn't they be focused primarily on a ceasefire that's really holding? Because we've seen many calls for a ceasefire saying yes, it's going to happen, but it hasn't really happened. Do you think now there can be genuine hope?
SL: The OSCE monitors reported yesterday, I think, that the ceasefire is generally holding, with some incidents taking place, yes, but they are absolutely not numerous at all, like it was in the past experience. There are things which cause concern, like accumulation of some government forces against around the area, but generally speaking, the OSCE reports that the heavy artillery is being withdrawn. So ceasefire is absolute priority, because people shouldn't be killed. But at the same time, people should have something to live on, therefore, to discuss economic and social matters, resuming economic interaction between these areas and the rest of Ukraine is absolutely imperative. And we want to understand why President Poroshenko signed a decree which is basically aimed at cutting off – economically, financially and socially – these areas from the rest of Ukraine. It's also a cause of concern of the United Nations, because this decree was, again, criticized in the latest report of the United Nations Humanitarian Coordinator Office [the UN Office for the Coordination of Humanitarian Affairs].
F24: So are you calling on President Poroshenko to rescind that decision?
SL: Absolutely. This was the message which my President sent to President Poroshenko when they last talked over the phone.
F24: And are you hopeful that he will listen?
SL: Well, we believe that he should be interested in resolving the problems which a big part of his citizens is experiencing.
F24: Is he your real partner?
SL: I think he is the best chance Ukraine has at the moment
F24: But you still mistrust him or people around him? Do you think...
SL: I cannot say that we have any difficulties in dealing with President Poroshenko, at least at the level of the presidents of two countries. There is a regular dialogue. I am in contact with my colleague Minister Klinkin. I think we established business-like relations, and the main thing is for the Ukrainian leaders to understand that this is their country, and this is their obligation not to spend and waste time on power sharing and power struggle, which is taking place in Kiev, but to proceed with reforms, to proceed with constitutional process which they promised and which they committed themselves to – a constitutional process which would be transparent, which would be inclusive, with the participation of all the regions and all political forces. This is something which was solemnly declared in Geneva, when the EU, the US, Russia and Ukraine met and signed a statement in April of this year. And we still don't see any genuine effort to start this constitutional reform. Unless the constitutional reform problem is resolved, we would always be, you know, facing problems here and there, because the constitutional situation is a systemic problem of Ukraine and they must address it urgently.
F24: This means large autonomy for the regions?
SL: I don't know. No, this is for Ukrainians to decide. We're not suggesting federalization, we're not suggesting autonomy. It was the French President who used the word 'autonomy' or 'decentralization', somebody else like Federica Mogherini used the autonomy terminology. John Kerry told me, "Why don't they think about devolution?" Fine, we have a lot of synonyms in the English language. It is not the words, it is the essence, the substance which is important. The Ukrainians themselves, from all the regions, as promised, from all the political parties should be delegated to meet in one place and to discuss how the regions want to elect or select their leaders, what kind of tax split could be agreed on between the federal authorities and the regional authorities, what language would be comfortable for each and every region or for some regions, what holidays are they going to celebrate. Is it going to be the birthday of Bandera and Shukhevych, who were cooperating with Nazis, which is now the proposed holidays in Ukraine? I don't think the east of Ukraine would celebrate those holidays. I don't think that the west of Ukraine, unfortunately, would celebrate the Victory Day. So they have to have a deal in their country, including on what kind of holidays they have. It's a very important psychological moment. And unless you resolve this systemic problem of the constitution, you will be encountering difficulties every day, more and more.
F24: The problem is, the Ukrainian leadership and the West generally believes that, you see, it's their country, but they seem to think that for Russia it's not exactly the case, that those self-proclaimed republics in the south-east are in fact trying to move away from Ukraine because they are encouraged, financed and armed by Russia. Are you saying today that those areas are for the future definitely part of Ukraine?
SL: Well, first of all, whenever we are accused of hundreds or thousands of Russians fighting in the east of Ukraine – with modern technologies, with the creativity of mass media this could have been on the screens long ago. Whenever I hear this, I challenge my interlocutors to show it on TV. I discussed this with John Kerry a few days ago in Rome, and we would have nothing against the truth being shown on the screens.
F24: But he is still repeating the same things.
SL: Yes, but, unfortunately, it's only words that we hear. We haven't seen any facts. Like, you know, after this tragedy of the Malaysian airliner, we have been hearing statements from Washington and some other capitals pointing fingers, but we challenge them to do what we did. We presented to the commission the images we have from our satellites. The Americans did have a satellite in that area on that day and on that hour. They also had an AWACS plane in the area, working and active, and we challenged them to submit these materials. Just like in the case of the accusations that Russia is fighting in the east: if you have this fact, present it, don't just repeat it. But answering your question, after the meeting with President Hollande in Moscow on December 6, President Putin talking to the press reconfirmed what he said repeatedly, that we support territorial integrity of Ukraine.
F24: Definitely?
SL: Definitely.
F24: Even in those regions? There's no second Crimea in the works?
SL: Crimea is unique, the one and only, the Russian land.
F24: It was an exception?
SL: It was not an exception, it was the will of the people. The Ukraine as we recognize it now is territorially integral from the Russian point of view and should be supported in this form.
F24: I want to get to the issue of sanctions, Western sanctions that were slapped on Russia. They seem to have an effect: the Russian economy is suffering, the ruble has tumbled to new record lows, there was an emergency meeting last night to raise the interest rates to 17%, the oil price is tumbling. It seems Russia is feeling the bite of the sanctions.
SL: Well, of course it hurts, we don't take any pleasure from sanctions, but it's not our problem, it's the problem of the European Union and the United States and other countries.
F24: But it's a problem for your population.
SL: The population will express itself when elections come. I'm sure the population would know what to do to express what the Russian people feel. I don't believe it helps Europe. As Joe Biden publicly said, it was the United States which ordered Europe to join sanctions against Russia, and frankly, it's really a pity that we for some previous years overestimated the independence of the European Union and even big European countries. So, it's geopolitics. Some people believe that sanctions are a sign of weakness or a sign of irritation, which is not the best quality of a politician, but I can assure you that Russia will not only survive, but will come out stronger out of this. We have been in much worse situations in our history, and every time we were getting out of these fixes much stronger. This will happen this time.
F24: So you're not afraid that we could see an economic meltdown in Russia?
SL: Never. Economic meltdown could happen to a small country. It can happen even to a big country like Ukraine, and it's basically almost there. Russia is doing whatever we can to help resolve the crisis in Ukraine – not to please the West, not to ask for sanctions relief, but because we are seriously concerned. Contrary to what the Europeans feel, we are seriously concerned about the future of Ukraine and Ukrainian economy. Actually, speaking of sanctions and, you know, that this is a sign of irritation, not an instrument of serious policies.
The latest portion of sanctions which was voted in the European Union last September was introduced the next day after the Minsk protocol was signed. This is a very interesting logic, you know, to stimulate the political process. So the next morning after the huge achievement was reached, which was praised by everyone, the gentleman, what was his name, Van Rompuy, declared that there was a new portion of sanctions being introduced in Russia. If this is the European choice, if this is what Europe has as a reaction to something positive, then I once again can only say that we hugely overestimated European independence in foreign policy.
F24: Are sanctions, as some people are thinking, a way of trying to create a regime change in Russia?
SL: I have very serious reasons to believe that this is the case.
F24: Really?
SL: Yes. Some politicians don't even hide it.
F24: What about the new bill that passed unanimously in Congress in the US, the Ukraine Freedom Support Act, which would give lethal weapons for the first time to Ukraine, sanction two of Russia's foremost companies…?
SL: First, it has to be signed.
F24: You think..
SL: Second, second, if it is signed..
F24: If Obama promulgates it, what…what would..
SL: Once again. First, it has to be signed. Second, if it is signed and enters into force it has to be applied in practice. And we'll see whether this would be the case, whether this would be signed, and if it is signed, if Obama would be in fact putting some of the provisions into practice, and if he does, then we will assess the situation. But, you know, Congress is a very special group of people, more than 80% of them never left the United States, they live in their own world, so I'm not amazed about this Russophobia which is being demonstrated by the Congress at the moment.
F24: If Obama endorses this, would this be for you a kind of a declaration of war against Russia?
SL: If he does, we'll see. We want to see what Obama does and what will happen, because the bill is not automatic. It provides for some specific things, I believe, to be done automatically, but it also provides for something to be left to the president's discretion. The things which are automatic, I believe, they relate to the Russian Rosoboronexport company and its foreign partners, but among foreign partners of Rosoboronexport are many Ukrainian military-industrial enterprises, and basically the bill provides for the Americans to find some alternative markets to the Ukrainian arms industry. But I talked to my American colleagues, and they admit that except Russia hardly any other country actually needs Ukrainian military products. So we'll see how it works.
F24: You've said many times that you feel that NATO as an organization is an enemy for Russia, that it has tried to expand, that it has really nefarious…
SL: I never said this.
F24: No?
SL: No, never.
F24: But it's the impression we get in the West.
SL: No-no-no. Well, when you have an impression you should ask a question, and then read the documents. The document which is relevant in this case is the military doctrine of the Russian Federation. It never mentions that NATO is an enemy. What it says is that the security risks for Russia, among other things, are NATO expansion to the East and the movement of military infrastructure of NATO closer to the Russian borders – not NATO itself, but its militarized movement to the East is considered by the Russian military doctrine as a security risk and threat for Russia.
F24: Would you consider cutting off ties with NATO if this continues?
SL: We don't need to do this because NATO did it for us. They have cut practically all ties between the Alliance and Russia, they just kept on hold basically the NATO-Russia Ambassadorial Council, but they severed all practical cooperative mechanisms, including on Afghanistan, including on counter-terrorism, some other specific things – they have frozen everything. But having done so in the context of NATO-Russia projects, they quietly come to us and say, "Well, let's continue training pilots for the Afghan Air Force, but doing this outside NATO-Russia. In other words, the substance they want to continue, but for the public consumption, they want to say that they are so firm with Russia that they severed all the ties. Childish, but what to do? Sometimes big boys play games.
F24: Speaking of games, there was a contract signed a few years ago with France for Russia to have the Mistral helicopter carriers, suspended?
SL: I have to interrupt you. I don't make any comments on this issue. This is the matter a) of a signed legal contract, and b) of dignity of the French nation.
F24: You expect France to fulfill this contract?
SL: I don't have any more comments.
F24: On Syria, the situation there is blocked, there are talks of trying to revive negotiations between the government and the opposition – is this a possibility, given the deteriorated situation?
SL: Well, I don't know who is talking about this, we certainly discuss this with Staffan de Mistura, the new Special Representative on Syria of the United Nations. But we, Russia, not only talk, we are engaged, we are deeply engaged in preparing such process to be resumed. We meet with all more or less meaningful representatives of various opposition groups, and with the government of Syria. We have been promoting the idea of, before they start something like Geneva III under the formal UN umbrella, to have a warming-up, if you wish, a preparatory meeting just to bring the opposition groups together for them to try to develop a common approach to the negotiations with the government, then to bring the government representatives to meet with them informally, and to agree the agenda of the process, which could be resumed. Because one of the reasons the Geneva, the previous Geneva process failed was they could not agree on the agenda, which comes first – fighting terrorism or discussing political transition. I believe this could be done in parallel. And Staffan de Mistura, the UN Special Envoy has some ideas on this score, which we support.
And the second reason for the failure of the previous attempts was that the opposition was only represented by the National Coalition, which is composed of the people who immigrated some time ago to France, to Egypt, to Qatar, Turkey. And the government used this, you know, to say that these people do not represent everybody, or maybe they don't even represent anyone in Syria. So our idea now is to remove this argument by bringing, by persuading the opposition groups to come together and to form a common delegation, probably with more than one spokesman but a delegation, which would be based on the same principles.
And of course, parallel to this, we have to support another UN idea, which is the so-called freezing of the hostilities, starting from Aleppo. Staffan de Mistura has some specific plan, and we would be supportive of his efforts.
F24: So are you optimistic about all those informal talks shaping up, do you think there is grounds for…
SL: So far, so far what we hear from the majority of our interlocutors, both in the opposition and in the government of Syria, we can be optimistic that this process could at least be tried early next year.
F24: Early next year. On Iran, there's a new round of nuclear talks. This week, an agreement couldn't be reached despite the deadline a couple of weeks ago. Are you optimistic that this is only a delay and not a failure?
SL: Why on each of those issues you want me to be optimistic?
F24: Or pessimistic?
SL: I have to be realistic. Well, you know that an optimist, or rather a pessimist, is a well-informed optimist. So we prefer to be realistic, and realistically speaking, the deal on the Iranian nuclear program is within reach. And certainly the timeframe, which was agreed again – the end of June next year – is chosen because in addition to the basic political framework agreement, which could be reached in a couple of months, there would be a need for very technical, very detailed annexes. That's why June seems a realistic date, and I don't think there would be any further extensions.
F24: So you you're saying the issues are more technical than political, right?
SL: No, I said that the political deal to be reached will require a couple of months, not more, I am sure, I mean, given the political will on the part of all the participants, because the issues are very well established, and the gap in the approaches is not that big. But in addition to this framework deal, which is a political deal, there would have to be technical interpretation of several issues, which will require two or three more months.
F24: The last issue I want to ask you about – Palestine wants to go to the United Nations Security Council with a resolution calling for an end to the Israeli occupation within two years. Some are saying it's a desperate move because there'll likely be a US veto. Do you favor the Palestinian move, do you think it can be useful to try to revive peace talks?
SL: Those are two different questions. First of all, the position of Palestine, the demand of Palestine is justified: they have been promised the state long-log-long ago. And the proposal, the substance of the draft resolution, which the Arab countries are promoting in the Security Council, is absolutely legitimate, and we cannot but support it, because we have always been supportive of what is written there. They just request the previous agreements, the Security Council resolution – resolutions, the Madrid principles, and other arrangements reached by the parties in the past, to be implemented, period. And we would be, as I said, considering these as an absolutely legitimate step. Whether this would help in reaching a deal – this is a more complicated question, because the Palestinians are considering asking to be admitted to the instruments of international organizations, international conventions; and Israelis say that if Palestinians go to these international organizations, especially to the international Criminal Court, then there would be an end to any dialogue. But this is a Palestinian matter, and they have to take their own decision with the advice, I believe, of the Arab League and the Organization of Islamic Cooperation. But this would be their decision, they have to calculate the consequences, the positive and the negative alike. We would strongly prefer to do everything to reach consensus in the Security Council. Then it would be a different game. And I discuss this thing with John Kerry, with my Arab counterparts, and we will continue these discussions just in the next few days.
F24:Ok. Sergey Lavrov, thank you very much for answering all our questions.