Anier Garcia: "To Reach Greatness, You Must Start Off Small"
Anier Garcia: "To Reach Greatness, You Must Start Off Small"
Imagen principal: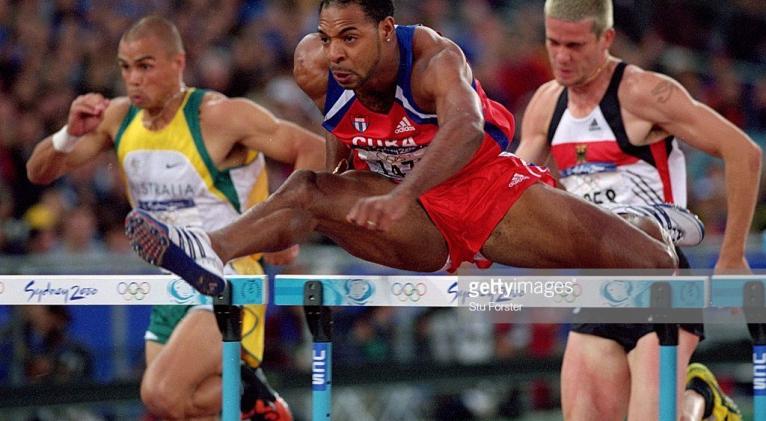 In spite of being absent from the track for a decade now, the first Cuban Olympic champion in the 110 meters hurdles is still in quite good shape, weighing about 115 kilograms at his 1.92 m height. Speaking with Havana Times, he recognized that he misses his golden age.
"I still feel active, I dream about competing and I get angry from time to time because I can't lose weight like I would like to," he tells us at his apartment, on the border between Central Havana and Cerro.
"In order to reach greatness, you have to start off small, talent develops with the values you are taught at home, at school. It was really competitive back in my day, with the English, the US, Germans and even some figures from the Caribbean. Anyone could win because we were all at a similar level."
Born in Santiago de Cuba, Anier Garcia took the spotlight when he won a gold medal at the Olympic Games in Sydney, Australia, in 2000. It wasn't an expected medal because even though he rubbed shoulders with the elite in this sport, the athlete from Santiago still hadn't come first at any World Championship.
This is how he explains what happened in the capital of New South Wales: "I was really focused, I knew what I wanted and I was well trained. I had had an almost perfect year from the very beginning in the indoor tour, when my time was 7.37 seconds, the third best in the world in the 60 meters hurdles. I remember it like it was yesterday. In the third lane, at night (early morning here in Cuba), I only saw the finish line, I didn't even see the hurdles in front of me. I spoke with my mother a little while before, like I normally did, and with her blessing I managed to finish in 13.01 seconds (smashing his personal record). My mother couldn't watch it on TV because she was so nervous and she only listened to it on the radio. Then, she did watch the video and she still watches it from time to time, like I do, because it's like going back in time to the happiest day in my sports career."
HT: Before you, only Alejandro Casanas had flirted with winning an Olympic gold medal, winning two silver medals in 1976 and 1980, but yours was the first gold medal at this level…
AG: I wasn't aware of anything when it happened, about our history or about what it meant to be an Olympic champion. It's only today that I value it for what it is, because you realize the impact this has on the world over time. I have given conferences outside of Cuba and I feel recognized by today's athletes, not only because of the medal, but because of the effort that this implies.
HT: You faced several problems in the 2004 Games because of injuries and you weren't a favorite then either, but you still won a bronze medal that felt like gold…
AG: It was a dreadful year. I had had an injury since the year before which I sustained at the Pan-American Games, when I tore my biceps femoral. I felt a pull from the fourth hurdle on, but I continued on to the end and then they told me that I needed to have an operation. I didn't want to get operated on and after several medical assessments, they decided to prescribe me 15 days of nearly total rest to see how things developed.
When I went back, the internal bleeding had miraculously stopped, and it was healing inside. So, they decided to continue on with this treatment for six months, with a personal physiotherapist, swimming sessions, etc. And with everyone's support (who became family to me), I recovered mentally and slowly began to compete again.
I first went to mid-level events, until I managed to finish in 13.33 seconds 15 days before Athens. That's when I told my trainer, Santiago Antunez, that I was ready. A few days later, I finished in 13.30 seconds in Zurich, and this was all before the Olympics. I ran there four times, but they were all like finals for me, until I got that bronze medal just because it was really tight (I finished in 13.20 seconds and they had to look at the photo finish. It tasted like gold and I was super happy because it was a medal won with discipline, courage.
I was going to compete in the Beijing (2008) Olympics too, but I suffered an injury to my adductor muscle in Poland, just a month beforehand. When we got to the Cuban athletics camp in Guadalajara, Spain, doctors were figuring out whether I could continue, but I myself thought that the time had come for me to bid farewell. I was only 32 years old and I could have lasted a bit longer, but I needed to be operated on this time and I preferred to retire.
HT: Dayron Robles took over from you, we could say…
AG: Just like all the trainers, I saw he had amazing potential. The young athletes would train first at the Pan-American stadium, but he would always stay on to watch the big team training, and that always struck me. I told him his moment would come because of his discipline.
Then after I retired, I stayed on as an aide to trainer Antunez for two years in which I learned a lot. I worked in Mexico for both the 110 and 400 meters hurdles with really good results because my students cut 14 seconds off their time in the 110 hurdles in the last 20 years. I continue to offer training support to new figures in Cuban hurdles.
HT: What can Anier say about Anier off the track?
AG: Music is my main hobby, I hate washing up and I love creole food. Loyalty is the thing I value most in someone. I am simple, but I also have a strong temper and sometimes I get overly angry when I don't like something. When I was an athlete, I always had the support of my teammates such as (Javier) Sotomayor, (Ivan) Pedroso and Yoelbis Quesada, who were always with me and we still meet whenever we can. Internet keeps us connected even though we are far apart and every time we have the chance to meet again, we do.