CUBA BEAT PUERTO RICO TO AVOID LAST PLACE FINISH IN POOL D
CUBA BEAT PUERTO RICO TO AVOID LAST PLACE FINISH IN POOL D
Imagen principal: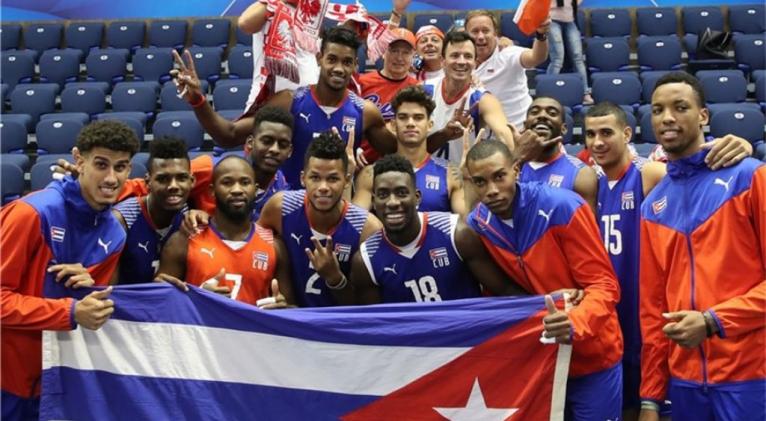 It was a matter of pride but Cuba managed to avoid the last place finish in Pool D of the 2018 Men's FIVB World Championship. The boys in blue beat Puerto Rico 3-1 (25-15, 22-25, 25-21, 25-17) but the score was academic as both teams were eliminated on Sunday from the tournament.
After the grueling Sunday clash against Finland head coach Oswald Antonetti opted for a slightly different Puerto Rican starting line-up. 39-year old Edgardo Roas replaced setter Perez. Ezequiel Cruz made his first start with the championship as did Pedrito Sierra in the middle. However Puerto Ricans found it hard to get started. Maurice Torres could not convert any of his first four spike attempts and soon was taken off with a leg pain. There was no contest in Set 1 – 25-15 for Cuba in just over 20 minutes.
Puerto Rico rallied in the second after Jonathan Rodriguez rolled an ankle to take the set 25-22. Cuban block set the in the third. Miguel Lopez and Livan Osoria each got four for the 25-21 success. In the fourth – a barrage of aces. Lopez and Goide each hit three, Herrera and Gutierrez contributed with one apiece. 25-17 for Cuba
Miguel Gutierrez joined the exclusive club of players with 30 or more points in a World Championship match, scoring 31. Miguel Lopez added 19 while despite the slow start Maurice Torres once again was head and shoulders above all of Puerto Rico players with 15.