U.S. Falls to Cuba, 7-2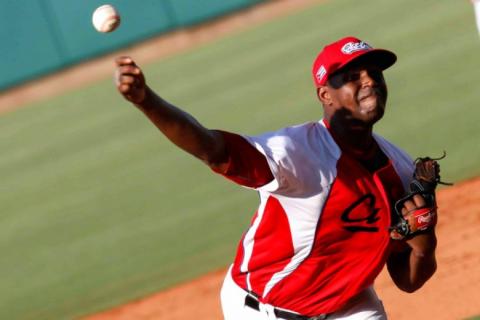 | | | | | | | | | | | | | |
| --- | --- | --- | --- | --- | --- | --- | --- | --- | --- | --- | --- | --- |
| | 1 | 2 | 3 | 4 | 5 | 6 | 7 | 8 | 9 | R | H | E |
| USA Baseball | 0 | 0 | 0 | 0 | 0 | 0 | 0 | 0 | 2 | 2 | 6 | 1 |
| Cuba | 0 | 3 | 0 | 0 | 2 | 0 | 2 | 0 | 0 | 7 | 13 | 1 |
CARY, N.C. - Andrew Vaughn and Tyler Frank each drove in a run as the USA Baseball Collegiate National Team fell to Cuba, 7-2, on Thursday in the fourth game of the sixth USA vs. Cuba International Friendship Series from Bill Coleman Field. This marks the first loss for the United States in international play this summer but the U.S. still holds a 3-1 lead in the best-of-five series.
Cuba scored three runs in the second inning for the opening runs of the game led by Juan Torriente singling in a run and Yoelkis Cespedes hitting a RBI-double. Cuba pushed its lead to 5-0 in the fifth inning as Norel Gonzalez and Torriente each drove in a run.
Trailing 7-0 in the ninth inning, the U.S. would score its only runs of the game. Steele Walker started the inning with a base hit up the middle followed by Seth Beer drawing a walk. Vaughn would plate Walker with a single to center field and Beer would cross home on a Frank sacrifice fly to deep center field.
Dachel Duquesne earned the win for Cuba tossing 7.0 scoreless innings scattering three hits with five strikeouts. Team USA's Gianluca Dalatri suffered the loss allowing three runs on six hits with two punch outs over 4.0 innings. Sean Wymer threw 4.0 innings in relief for the U.S. allowing four runs on seven hits with two strikeouts.
The U.S. team ended the game with two runs on six hits with one error, while Cuba finished with seven runs on 13 hits and one error.
The United States and Cuba will play the series finale of the sixth USA vs. Cuba International Friendship Series on Friday at 6:05 p.m. from Bill Coleman Field at the USA Baseball National Training Complex.
The series is sanctioned by the World Baseball Softball Confederation.