Ukrainian army decimated by losses – conscription officer
Ukrainian army decimated by losses – conscription officer
Imagen principal:
Up to nine out of ten Ukrainian draftees who joined the army a year ago were either killed or wounded in action, a senior conscription officer in the Poltava Region said on Friday, according to local media.
Speaking at a meeting of Poltava City Council, Lt. Colonel Vitaly Berezhny, who serves as acting head of the territorial center of recruitment and social support, admitted that local authorities are struggling with their conscription campaign, having fulfilled the mobilization plan by only 13%, which puts the city in last place in the whole region.
Berezhny was quoted by local media outlet Poltavshina as saying the military urgently needs reinforcements, as "out of 100 people who joined the units last fall, 10-20 remain, the rest are dead, wounded or disabled."
To remedy the manpower shortage, the officer suggested rolling out draft notification posts in a bid to "establish the presence of conscripts." He added that the region was also planning to create a large mechanized brigade, and urged local deputies to assist in the effort.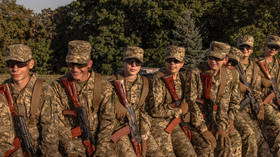 Ukraine to change conscription rules
Ukraine announced a general mobilization shortly after the start of Russia's military campaign in February 2022, banning most men aged 18 to 60 from leaving the country. In August, former Ukrainian Defense Minister Alexey Reznikov said Kiev had not yet fulfilled its existing mobilization plan, suggesting there was no need for another draft drive.
However, earlier this month, Ukraine's Defense Ministry issued a decree allowing the conscription of people with such severe conditions as hepatitis, HIV without symptoms, and clinically treated tuberculosis. At the same time, Ukrainian authorities embarked on a massive campaign against corruption in the country's conscription system, with President Vladimir Zelensky recently firing all regional military conscription officials.
Berezhny's acknowledgment comes amid Ukraine's counteroffensive that has been underway for more than three months but has failed to gain significant ground. Earlier this week, Russian President Vladimir Putin estimated Ukraine's losses at more than 71,000 troops. He also suggested that Kiev could enter into negotiations with Moscow only when it comes close to running out of resources to throw at Russian defences, but concluded that Ukraine would need those talks only to restore its battered military potential.