Puerto Rican Solidarity Brigade arrives in Cuba
Puerto Rican Solidarity Brigade arrives in Cuba
Imagen principal: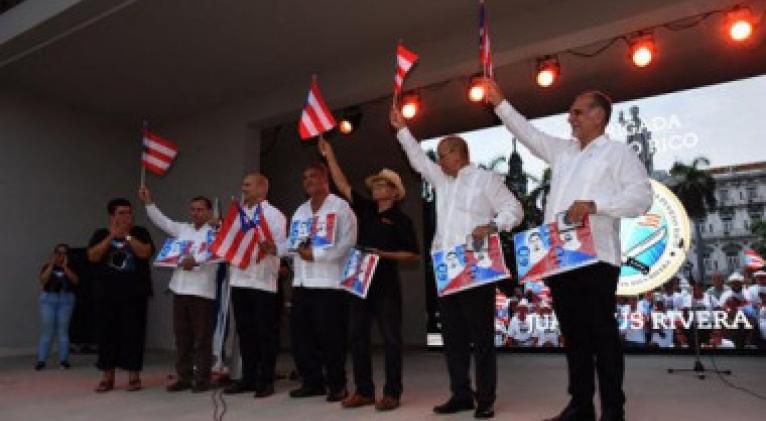 Havana, Jul 2 (RHC)-- The  Puerto Rico-Cuba Solidarity Brigade Juan Rius Rivera presented Friday its victory medal to Cuban President Miguel Díaz-Canel, the five anti-terrorist fighters, and Puerto Rican independence fighter Óscar López.
Brigade director Milagro Rivera presented the award during a ceremony at the Fidel Castro Center, with which the solidarity activists began their activities in Cuba.
Upon receiving the award, López said that Cuba and Puerto Rico have to be the two wings of a bird, and that is the way it should always be because I carry the sister island in my heart.
The nearly 100 members of the group visited the exhibition halls of the institution and participated in a political-cultural act in which they recalled the historical ties between the two nations.
The director of the Fidel Castro Center, Rene Gonzalez, said that the relationship between Cuba and Puerto Rico dates back to the 19th century since the first attempts of both islands to achieve their independence and is currently maintained with Havana's support to the pending Puerto Rican independence cause.
According to the brigade's program, its members will visit provinces in the center and east of the country to learn about the national reality and dialogue with its population.
They will participate in the Caribbean Festival in Santiago de Cuba and in the tributes for the 69th anniversary of the assaults on the Moncada and Carlos Manuel de Céspedes barracks.
This edition of the solidarity initiative is dedicated to Cuban health personnel, especially epidemiologist Francisco Durán, to the five Cuban anti-terrorist fighters and Puerto Rican independence fighter Óscar López.