Iran Blasts US for Sanctions on Cuba
Iran Blasts US for Sanctions on Cuba
Imagen principal: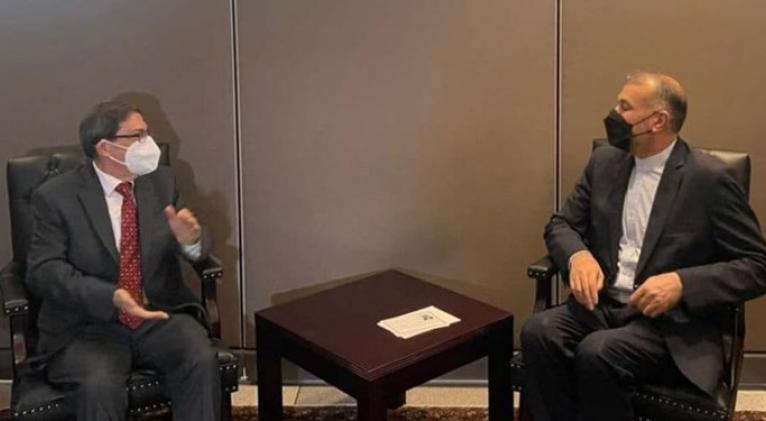 "The US unilaterally imposes sanctions against the world's independent states which is not acceptable," Amir Abdollahian said during the meeting on the sidelines of the the 76th Conference of the UN General Assembly in New York City on Friday.
The Iranian foreign minister, meantime, voiced his content over the close cooperation between the two countries, especially in the field of production of joint COVID-19 vaccine, and said that Cuba is now a strategic partner for Iran.
Amir Abdollahian reiterated that the Iranian government is a pragmatic government and is looking for the implementation of the previously reached agreements.
The Iranian foreign minister invited the Cuban foreign minister to pay a visit to Iran in a bid to review the previously reached agreements and work on a roadmap for cooperation.
The Cuban foreign minister, for his part, voiced his country's readiness for cooperation with Iran in health and agriculture fields.
"The fields of technology and heavy machinery are among other fields which have great potentials for broadening cooperation," Rodriguez added.
During the meeting, the two sides also exchanged views on expanding bilateral relations, specially in the economic field.
In a relevant development in late June, Head of Iran-Cuba Friendship Association Hadi Khansari slammed US brutal sanctions against Cuba, urging instant removal of these sanctions, specially in the health and medical sector.
Khansari, in a letter to the UN Secretary-General António Guterres, criticized US inhumane sanctions against Cuba, adding, "Cuba has endured more than six decades of comprehensive US sanctions against its people and government, which is the longest sanctions in the world history."
"This has endangered mental and physical health and quality of life in Cuba and had led to poverty and many problems pushing the country toward a form of genocide," he noted.
"We call for the lifting of these sanctions as soon as possible and condemn the inhumane and unjust sanctions," the official stated.
"We call on all human and legal communities to confront this inhuman and oppressive behavior of the US. We hope that the world will become a place for equality, peace, and fair life," he added.
In relevant remarks in late June, Iranian Foreign Ministry Spokesman Saeed Khatibzadeh underlined Tehran's support for Cuba amid the "illegitimate" economic war launched by the US against the country.
"Siege of Cuba by the US is a cruel oppression and an illegitimate economic war," he said.
He added that the Islamic Republic of Iran has firmly stood by the Cuban people.