Rouhani Urges Expansion of Iran-Cuba Cooperation
Rouhani Urges Expansion of Iran-Cuba Cooperation
Imagen principal: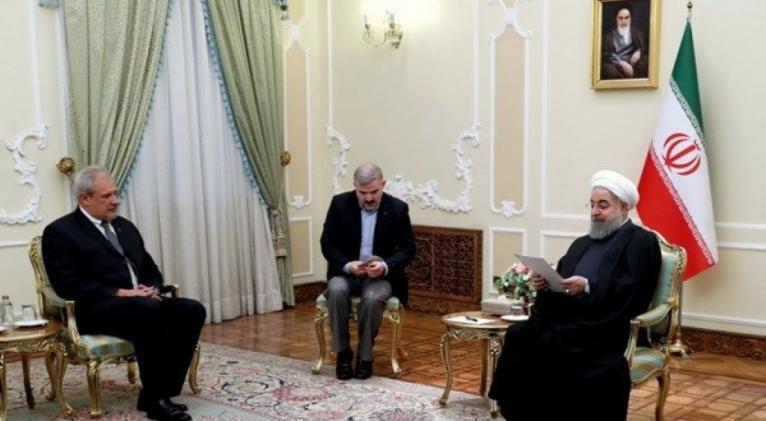 "The Islamic Republic of Iran is after broadening of ties with the Cuban government," President Rouhani said during the meeting in Tehran today.
The Iranian president said that Tehran-Havana relations have been constructive since the victory of the Islamic Revolution in 1979, adding that Iran and Cuba encountered similar antagonistic plots in their post-revolutionary eras and there is no doubt that among the world revolutions, the names of Imam Khomeini and Fidel Castro will be remembered as outstanding revolutionary leaders.
Rouhani stressed that Tehran is against imposing sanctions as an outdated, wrong method, and said, "The Islamic Republic of Iran is against enforcing oppressive sanctions on the independent nations such as Cuba."
The new Cuban ambassador to Tehran, for his part, submitted a copy of his credentials to the president and highlighted the influential role of Tehran in maintaining stability and security in region and the world.
"The Islamic Republic of Iran enjoys a special place in the foreign relations of Cuba and we are determined to expand our relations and cooperation with Iran in economic as well as political areas day by day," he added.
"Cuba believes that engaging in wide-ranging relations with the Islamic Republic of Iran is the best means to oppose unfair sanctions against both countries, and at present, when the US is after imposing its policies on the world by force, the development of independent, free countries such as Iran and Cuba can be very influential," Bandrich Vega added.
In relevant remarks in earlier this month, President Rouhani in a message to his Cuban counterpart Raul Castro underlined the need for enhancing mutual cooperation between the two countries in different fields.
"I hope relations between Tehran and Havana will expand in political, economic, social and cultural fields soon," President Rouhani said in his congratulatory message to President Castro on the occasion of the 59th Anniversary of the Victory of the Cuban Revolution.
He pointed to the age-old relations between Tehran and Havana, and said that the two countries have worked hard to boost their cooperation in the field of anti-Imperialism cooperation.
The Cuban Revolution was an armed revolt conducted by Fidel Castro's 26th of July Movement and its allies against the authoritarian government of the deposed Cuban President Fulgencio Batista. The revolution began in July 1953, and continued sporadically until the rebels finally ousted Batista on January 1, 1959, replacing his government with a revolutionary socialist state.